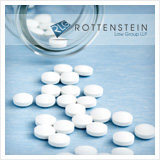 New York, NY (PRWEB) February 08, 2012
The former Avandia users who filed the lawsuits reached an accord with GlaxoSmithKline in a mediation ordered by U.S. District Judge Cynthia Rufe in Philadelphia, according to an article that recently ran on Bloomberg.com.
Judge Rufe had set a 75-day deadline to resolve 85 percent of the remaining Avandia cases that are consolidated and pending before her, according to the Bloomberg article. "[I]t's unclear whether enough cases have been settled to meet the deadline," the article states. "If there aren't enough settlements to meet the judge's requirements, [Judge] Rufe has said she will begin scheduling cases for trial. So far, no Avandia cases have been considered by a jury."
GlaxoSmithKline settlements in lawsuits by patients alleging Avandia caused heart attacks and strokes have averaged around $50,000 per claimant, according to a Nov. 11, 2011, article on Businessweek.com.
The Rottenstein Law Group urges anyone who has suffered adverse side effects from a drug or medical device to speak to a qualified personal injury lawyer as soon as possible. The firm maintains an Avandia Lawsuit Information Page at http://www.rotlaw.com/avandia/. The site has features that allow for easy sharing, including links for automatic posting on Facebook and Twitter, specifically to enable visitors to spread the word about the dangers of Avandia.
About THE ROTTENSTEIN LAW GROUP
The Rottenstein Law Group is a New York-based law firm that represents clients in dangerous drug lawsuits. The firm was founded by Rochelle Rottenstein, who has more than two decades of experience as a lawyer, to represent clients hurt by defective consumer products.
Contact:
The Rottenstein Law Group, LLP
Rochelle Rottenstein, Esq.
1259 Veeder Drive
Hewlett NY 11557
(212) 933-9500 (office phone)
(212) 933-9980 (facsimile)
rochelle(at)rotlaw(dot)com
http://www.rotlaw.com
###