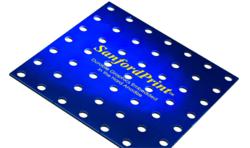 Woonsocket, RI (PRWEB) February 09, 2012
Duralectra-CHN introduces SANFORD PRINT™, a unique printing application that embeds printing below the surface of the oxide. The combination of MICRALOX® with SANFORD PRINT™ is a perfect combination for applications requiring a qualified coating and printing solution that meets the performance standards for manufacturing reusable medical devices made out of aluminum.
How long will the printing last on your medical equipment? A whole lot longer with SANFORD PRINT. Embedded Printing Permanent & Indestructible
What is SANFORD PRINT™?
Developed by Sanford Process Corporation, SANFORD PRINT™ results in permanent marking by embedding the ink deep into the aluminum hard coat. Completed before the oxide is sealed, the resulting print is secured below the surface and is invulnerable to abrasion, chipping and delaminating. Consequently, the print is completely protected and remains readable over the extended life of the part. This high quality print is a validated solution for all applications requiring frequent cleaning and sterilization - conditions that cause conventional print to fail with the resultant loss of critical information and traceability.

High resolution printing
Half tone printing
Broad range of ink colors / multiple colors on part
Extraordinary print quality for logos, artwork, and text
Eliminate risk of print delaminating, and fading due to thermal cycles,
cleaning detergents, as well as aggressive physical handling

No formation of bio-films underneath ink
Ideal for Medical Trays, Cases, Cassettes, and Instruments:
Combined with MICRALOX®, SANFORD PRINT™ provides validated performance for medical parts made from aluminum that require regularly cleaning and sterilization, even when high pH detergents are used. The resulting finish and print remain clear and unchanged over the service life of the part - demonstrated performance adopted by leading orthopedic and medical device companies around the world. For more information on SanfordPrint go to http://www.micralox.com/technology/printing/ or call 401-597-5000.
About Duralectra-CHN LLC
Formed from the merger of Duralectra, Inc. and CHN Metal Finishing in 2008, Duralectra-CHN (http://www.d-chn.com & http://www.d-chn.biz ) is the leading aluminum finisher on the East Coast of the United States. Duralectra-CHN provides extensive manufacturing capabilities, including Type II and III anodizing, and proprietary Sanford Process technologies such as Quantum®, Plus®, Salvage® and MICRALOX®, for medical, high technology engineering, military and aerospace, and other markets focused on high quality components. Duralectra-CHN operates one of the largest anodizing facilities in our region and has a strong reputation as a reliable partner to many well-known companies across North America.
###