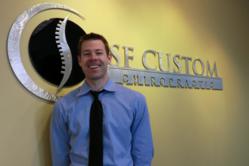 It has been a great first year and I am looking forward to helping as many people as possible in 2012.
San Francisco, CA (PRWEB) February 08, 2012
Approximately one year ago, Dr. Adam Jacobs opened his practice in the Financial District of San Francisco. He has strived to treat patients not only by relieving them of pain, but also by providing proper exercises and recommending lifestyle changes to eliminate the cause of the problem. As one of the few elite chiropractors trained in Active Release Technique, Dr. Jacobs has successfully worked with patients of all ages with a wide range of professions, from athletes and students to busy professionals in the city. His upbeat and attentive personality, as well as his friendly and professional staff, has helped many San Franciscans find the perfect chiropractor they can trust. Within a year of its opening, SF Custom Chiropractic has successfully treated approximately 1400 patients and continues to accept new patients each day. What separates SF Custom Chiropractic from other clinics is the combination of traditional chiropractic care and new technologies at their paper-free office. With so many highly rated reviews on sites such as Yelp, Google places and CitySearch, SF Custom Chiropractic is now known as one of the best Chiropractic clinics within the Bay Area.
"It has been a great first year and I am looking forward to helping as many people as possible in 2012. I love what I do so the hard work comes easy. In 2012, I plan on hiring another doctor and trying to become even more involved in the San Francisco community, " says Dr. Jacobs, a graduate from Palmer Chiropractic in San Jose.
Dr. Jacobs frequently volunteers at local companies and gyms giving health talks and treatment. For business professionals, Dr. Jacobs provides ergonomic evaluations to ensure proper use and function of workspaces, as well as chair massages to minimize stress. The chair massages are given by SF Custom Chiropractic's certified massage therapists who also provide deep tissue massages for patients. Throughout the year, Dr. Jacobs administered scoliosis screenings and posture assessments for children attending schools in the city. He hopes people will use chiropractic care and develop proper ergonomics to help maintain their health. To further educate the San Francisco community, Dr. Jacobs has recently started a blog on his website with various health topics.
On February 3rd, SF Custom Chiropractic celebrated its one year anniversary with fellow patients, along with friends and family. Dr. Adam Jacobs and his staff were happy to greet and thank patients for a successful year by celebrating in their office with beverages, snacks and entertainment. To extend the celebration for the month of February, Dr. Jacobs is pleased to offer an Anniversary special for the Bay Area. For only $45, new patients can receive a first examination and treatment, as well as existing patients, for a re-examination and treatment. ($125 value). With this special offer, Dr. Jacobs hopes to continue to treat current and future patients for the years ahead.
About SF Custom Chiropractic: SF Custom Chiropractic opened in January 2011. Head treating doctor, Dr. Adam Jacobs received his doctorate of chiropractic from Palmer West College of Chiropractic (known for being the leader of sports chiropractic). He has a master's degree and a fully body and long nerve entrapment certification in Active Release Technique.
# # #