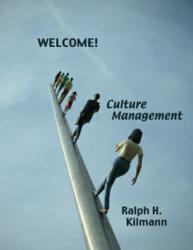 Culture is to the organization what personality is to the individual—a hidden, yet unifying theme that provides meaning, direction, and mobilization.
Newport Coast, CA (PRWEB) February 09, 2012
Using its proven formula for creating a successful online learning experience, Kilmann Diagnostics (KD) has just tackled the illusive challenge of how to mange cultural change in the workplace. KD's new online course on Culture Management provides work groups with the latest theory and methods for identifying and closing their most troublesome culture-gaps: the difference between their self-defeating behavioral habits from the past and the kind of trustworthy, supportive, and innovative behavior that's needed for success in today's fast-paced turbulent economy.
In a six-hour, recorded, online course, KD brings together an effective blend of background theory, self-report assessments, work sheets for pinpointing culture-gaps, and clear guidelines for then implementing a well-developed process of cultural change. This online course is especially suited for cultural change agents: HR personnel, operating managers, team leaders, consultants, coaches, and other facilitators of organizational change and improvement.
In the Culture Management Course, right after some background material is provided on the meaning and impact of cultural forces, participants learn to write out two sets of lists: (1) the actual norms and (2) the desired norms in the workplace.
Regarding the actual norms (the unwritten, unspoken rules from the past), this first list typically includes: "Don't disagree with your boss." "Don't get caught sharing information with other groups." "Don't rock the boat." "Don't make waves."
Yet the second list of desired norms is usually quite the opposite: "Tell the boss what he needs to know to get the job done." "Help other groups; we're all on the same team." "Take the lead in bringing new ideas out in the open." "Try new ways of doing things."
Participants in the course then take the Kilmann-Saxton Culture-Gap® Survey, which develops a numerical score for the actual size of a group's culture-gaps. Nicely designed Profiles then powerfully reveal the pattern of culture-gaps across work units in the organization. By combining the results of the Culture-Gap® Survey with those two lists of actual versus desired behavioral norms, participants have an effective toolkit of information and action steps for closing their largest—most troublesome—culture-gaps.
Also included in the Culture Management Course is another self-report assessment tool: Kilmanns Organizational Belief Survey. This survey measures whether people believe that what happens to them is determined by outside forces (called: External Control) or if their own behavior determines what they experience in the workplace (called: Internal Control). It turns out that a work group's culture must foster a collective belief in Internal Control in order to succeed at cultural change (or any other kind of change for that matter). However, if the culture still clings to a belief in External Control (as revealed by the latest results from the Organizational Belief Survey), group members will continue to wait around for "someone else" to bring about the much-needed cultural change, which pretty much guarantees that nothing of real significance will ever improve.
Dr. Ralph Kilmann, CEO of Kilmann Diagnostics, summed it up this way: "Our Culture Management Course joins solid theory with practical assessments. As a result, our culture course not only helps participants understand the meaning of the silent norms that can overwhelm even the best-intentioned efforts at change and improvement, but also gives consultants, trainers, and coaches some very practical tools for improving the culture in all kinds of organizations, both large and small. But our proudest achievement is being able to provide such useful knowledge in a recorded online course."
The fee for the six-hour Culture Course is $400 per person. When purchasing 10 or more slots, the group rate reduces the fee to $325 per person. The course includes the Culture-Gap Survey, the Belief Survey, and several work sheets for closing culture-gaps—all of which are contained in a beautifully designed, 130-page Course Manual.
Although anyone can benefit from this change-focused culture course, some participants prefer to start with KD's eight-hour course, ADVANCED Training in Conflict Management, since this foundational course provides the tools for managing conflict during the process of closing culture-gaps. And then, after participants have completed the Culture Management Course, additional online courses are available: Critical Thinking and Team Management.
NOTE: "Culture-Gap" is a registered trademark of Organizational Design Consultants (ODC), the parent company of Kilmann Diagnostics.
KILMANN DIAGNOSTICS
The mission of Kilmann Diagnostics is to resolve conflict throughout the world by providing a series of online courses with the Thomas-Kilmann Conflict Mode Instrument (TKI) and other assessment tools. With these online courses and assessment tools, KD provides the most integrated and comprehensive approach for managing conflict—and managing change—for individuals and their organizations. For more information, visit: Kilmann Diagnostics.
ABOUT RALPH KILMANN
Ralph H. Kilmann, Ph.D., is CEO and Senior Consultant at Kilmann Diagnostics in Newport Coast, California. Formerly, he was the George H. Love Professor of Organization and Management at the Katz School of Business, University of Pittsburgh—which was his professional home for thirty years. He earned both his B.S. and M.S. degrees in industrial administration from Carnegie Mellon University (1970) and a Ph.D. degree in management from the University of California, Los Angeles (1972).
Dr. Kilmann is an internationally recognized authority on systems change. He has consulted for numerous corporations throughout the United States and Europe, including AT&T, IBM, Ford, General Electric, Lockheed, Olivetti, Philips, TRW, Wolseley, and Xerox. He has also consulted for numerous health-care, financial, and government organizations, including the U.S. Bureau of the Census and the Office of the President.
Kilmann has published twenty books and more than one hundred articles on such subjects as conflict management, organizational design, problem management, change management, and quantum organizations. He is the coauthor of more than ten assessments, including the Thomas-Kilmann Conflict Mode Instrument and the Kilmann-Saxton Culture-Gap® Survey.
###