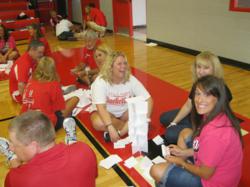 "These teamwork resources are available to help you motivate and lead your team!"
(PRWEB) February 09, 2012
For years, Sean Glaze has improved group collaboration and cohesiveness with his Atlanta teambuilding and leadership training events and has traveled around the country to deliver his engaging lessons and boost teacher and corporate morale.
Sean is a member of many teambuilding and leadership training organizations, including Project adventure, the Southeast Association of Facilitators, the Georgia Athletic Coaches Association, and the Professional Association of Georgia Educators. He holds a Specialist degree in Education, and the 20 years he enjoyed in public school classrooms have provided him with the background to identify with the challenges that all teachers encounter.
It is Sean's background as both a teacher and coach that he draws upon and incorporates into his articles and teamwork resources. Teachers, coaches, administrators, and leaders in any field can access his insightful teambuilding blog and teamwork handouts on his website, which is designed to help them create a more focused and cohesive culture. Sean's collection of resources includes leadership quotations, motivational handouts, accountability tips, and other inspiring topics to help transform your group into a more productive team!
He delivers instantly downloadable information such as:

The five traits the all great teams have in common
What to share with the new guy on your team
A tool for teacher collaboration to inspire creative lessons
A dozen challenging questions for your next meeting
"I am so excited to offer these articles and resources to teachers, coaches and other team leaders by providing this information," Coach Glaze said. "Having taught and coached for 20 years myself, I know how useful it is to have relevant resources available when your team is experiencing issues or needs a boost of some kind. These teamwork resources are available to help you motivate and lead your team!"
In addition to sharing these team motivation articles and resources, Mr. Glaze facilitates full and half-day team building events for teachers, athletes, and various other organizations.
Virtually any group can become stronger and learn to work better together when given the time and opportunity to build relationships and communication skills. Sean's engaging team challenges and impactful interactive lessons will help develop a culture with more smiles, improved collaboration, increased leadership skills, and more productive people. Interested group leaders can learn more about what a day of teambuilding might include by visiting the teambuilding faqs page.
###