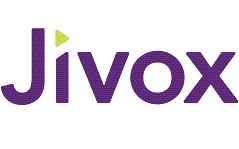 San Mateo, Calif (PRWEB) February 08, 2012
Jivox, the leading multi-screen interactive video advertising technology company, today announced the release of customized interactive ads for political campaigns. The Jivox Political Ad Kit enables candidates to embed video messages across multiple screens, including speeches and messages on specific issues, build audiences on social media channels and actively engage with supporters. This results in better-informed and more engaged voters, with improved ad performance and ultimately higher campaign ROI.
"Reaching out to voters online has become a necessity," said Diaz Nesamoney, CEO of Jivox. "Jivox interactive video ads provide incredible advantages for political campaigns. It provides a similar engagement medium to TV, yet reaches a broader audience and increases exposure through interactive social sharing and real-time engagement on any screen."
Jivox Interactive Video Ads for Political Campaigns include:

Custom interactive widgets for impactful messaging and engagement
Social sharing options for maximum reach, including Facebook, Twitter, GooglePlus and YouTube
Mobile capabilities to optimize campaign on any screen, including iPad and iPhone
Rich campaign analytics for real-time campaign optimization and measurement
According to a recent survey by STRATA, US political campaigns in 2011-2012 have spent 100 percent more in online advertisements than during the 2010 midterm elections. Online advertising helps with branding, engagement and increasing exposure at a lower cost.
The Jivox Political Ad kit for agencies and publishers is available at: http://bit.ly/yYK5Zn
About Jivox
Jivox is the leading multi-screen interactive video advertising technology company. The Jivox platform enables brand advertisers, digital agencies and publishers to deliver highly engaging video ads powered by interactive and social sharing features. Using Jivox creative tools, interactive video ads can be easily authored and delivered instream, in-banner and on mobile devices and tablets. Jivox technology eliminates typical challenges associated with delivering video ads across multiple screens and connected devices, such as HTML5/Flash, operating systems, browsers, video encoding, form factor and other issues. Jivox also provides sophisticated campaign performance tracking, brand awareness and purchase intent analytics for advertisers via BrandGage -- its proprietary real-time analytics platform. The Jivox platform is used by several hundred media companies and agencies including AdBrite, Bloomberg, Weather Underground, Sun Times Media, InteractiveOne, Starcom, OMD, FUOR Digital, GroupM and Lee Enterprises. For examples of Jivox ads see: http://www.jivox.com/demoads.
# # #