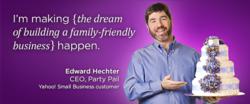 Creating positive relationships with our technology service providers and ASP partners in a way that benefits both parties is very important to us.
Enumclaw, WA (PRWEB) February 08, 2012
PartyPail, Inc., an online party supplies retailer specializing in first birthday and other milestone birthday party supplies, as well as bridal shower and baby shower decorations, has been featured in some new small business spotlight advertising campaigns run by the company's large, well-established service providers. Founded in 2007, PartyPail immediately started forging strong relationships with the companies that provided business services, many of which could be fundamental for the survival of a small ecommerce company.
"Creating positive relationships with our technology service providers and ASP partners in a way that benefits both parties is very important to us," says Edward Hechter, CEO. "The service providers we are working with now have been instrumental in our success, so when they approach us to provide them with testimonials, we're more than happy."
Late last year, Vocalocity—a business VOIP phone service provider for PartyPail—reached out to Hechter to discuss the possibility of doing a Customer Spotlight campaign, in which a select group of Vocalocity VOIP customers would tell their story about working with Vocalocity and how the company helped their companies to succeed. Hechter was happy to participate, and Vocalocity created a video case study of Hechter discussing how he chose Vocalocity as a service provider, and how PartyPail has benefited from the relationship.
The case study developed by Vocalocity tells the story about how Hechter made the decision to select them as a technology provider, and the benefits PartyPail has received from using their platform. The ability for PartyPail to cut its telecommunications costs in half, while growing the business 400% demonstrates the incredible value that leading edge cloud-based VOIP solutions can deliver to small businesses. These advantages guarantee that PartyPail and Vocalocity will be able to work together in the future, even as PartyPail continues to grow. To learn more about the two companies' relationship, view PartyPail's Vocalocity Customer Spotlight here.
In addition to the Customer Spotlight for Vocalocity, PartyPail was recently featured in a Yahoo! Small Business "Make It Happen" Campaign, in which Yahoo! selected a handful of small business owners who use Yahoo!'s ecommerce, web hosting or other technology targeting small businesses. The goal of the campaign was to highlight successful small businesses who had a dream for their business and used Yahoo!'s products and services to help "make it happen." Yahoo's marketing team learned about PartyPail from one of their Account Managers who had been working with Hechter as his company grew from operating one website to operating six and growing over 1,000% from 2007 to 2010.
"After 18 years of living out of a suitcase in the corporate world, my dream was to create a family-friendly business that would allow me to spend more time with my family, and would allow the employees who work for me that same luxury as well," says Hechter. "Yahoo!'s hosting and store management have helped me to do just that. Today I work within miles of my home, and can stay active in my sons' Boy Scout troops, as well as other aspects of family life that I'd been missing out on before."
For more information about PartyPail's relationship with Yahoo! Small Business, check out the Yahoo! Small Business "Make It Happen" Campaign featuring PartyPail.
Growing the business in the midst of a very tough economy is a testament to how small businesses like PartyPail can leverage the amazing infrastructures of large cloud based technology providers to keep their own costs low, while providing an operating platform that enables rapid growth. This growth has not gone unnoticed – Last October, PartyPail was recognized as the 9th Fastest Growing Privately Held Company in Washington State, with revenue growth from approximately $250,000 in 2008 to over $3,000,000 in 2010.
PartyPail's relationships with Vocalocity and Yahoo! Small business showed that even the smallest business can achieve success when they align themselves with larger, well-managed service providers that have a good product to provide small businesses. Choosing the service providers that have the right pricing, solid support, and are scalable so that a business can continue to use them as they grow is one of the secret's to PartyPail's current success.
About Us:
PartyPail, Inc. is a party supply company based out of beautiful Enumclaw, WA. The company originally focused on providing baby shower supplies, but since its founding in 2007, it has grown to also provide bridal shower decorations, baptism décor and favors, 1st birthday party supplies, and other milestone birthday party decorations for all ages from 16 to 100.
###