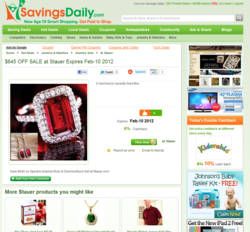 SavingsDaily.com is now offering fashion and beauty deals to Valentine's Day bargains hunters.
(PRWEB) February 08, 2012
SavingsDaily.com is a new shopping site that is generating quite a bit of buzz on the internet. The site offers name-brand products for a jaw-dropping prices. This site also offers fun and unique features for its registered members. The sign-up process is quick and easy and members are immediately given access to the site's social networking tools. Members can connect with other members and share bargains and coupons. Other perks from membership include a multitude of sweepstakes, contests and free giveaways. There is also a public blog area where members and guest bloggers can write on the various subjects related to the savings, shopping, discounts, etc.
The feature that the SavingsDaily.com members love the best is the cashback deals. Members can earn between 3% and 17% cashback on all of their own purchases as well as receiving a commission on sales of all members whom they have referred. The cashback payments are accumulated and once a members account hits twenty dollars they can request payment be made to them.
SavingsDaily.com is now offering fashion and beauty deals to Valentine's Day bargains hunters. Below are just a few of the incredible deals to be found. In Intimate Apparel & Lingerie romantic shoppers can find darling Rampage Mesh Babydoll and Thong set, black trimmed in pink. The set is regularly $42.00 and is on sale for $12.99 with a 3% cashback offer. For the more adventurous Valentine in Body Jewelry currently on sale super sexy 7mm Steel Black Red Heart Screw Fit Plug. The plug is black with a red heart overlay. Regularly priced at $29.99 it is on sale for $9.99 with a whopping 7% cashback offer. Buy two to make a matched set or mix and match with the many other plugs available. Lest not forget the romantic evening of Valentine's night. In Chocolate & Candy and one will find a scrumptious Wooden Collector's Box full of Chocolate covered almonds. This decadent treat is normally priced at $56.00 reduced to $22.95 and comes with a 4% cashback offer.
Starting February 14th and every day after that online shoppers should click over to SavingsDaily.com and discover a new kind of online shopping experience. SavingsDaily members meet other shoppers who enjoy the quest of finding the perfect item at the perfect price and help each other finding treasures and then celebrate together. And event better to show off the swag and invite friends to become a registered member and get paid for the shopping by collecting the points. What could be better than that?
SavingsDaily.com is a social shopping site that offers online deals, coupons, promotions and product reviews to its members and visitors. SavingsDaily.com is a fast growing shopping community where members help each other finding best deals and coupons from hundreds stores and brands in one place. For details, please visit SavingsDaily.com, become fan on Facebook at http://www.facebook.com/SavingsDaily and follow on Twitter at http://twitter.com/sddly
###