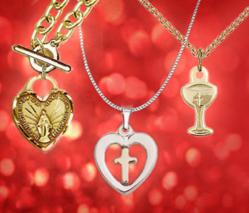 Giving your loved one a reminder of your faith on Valentine's Day is a meaningful gesture of your love and devotion.
San Mateo, CA (PRWEB) February 14, 2012
While lovers all over the world celebrate Valentine's Day with extravagant gifts and sweet nothings, a leading online source of Catholic gifts offers two very special gifts that go far beyond the 14th of February. Discount Catholic Products ™ has announced a collection of romantic gifts for religious couples, as well as a special page dedicated to the lives of saints.
"We believe that faith is an integral, meaningful part of people's love lives," explains Kristen Padula, spokesperson for Discount Catholic Products ™. "Giving your loved one a reminder of your faith on Valentine's Day is a meaningful gesture of your love and devotion."
The store offers a wide selection of items that are ideal for romantic gestures. Among the most popular products are their engravable Catholic gifts, which can be personalized with the recipient's name or with short romantic messages. Couples can choose from a variety of patron saint medals, bracelets, and rosaries, among many other items. For an added touch, customers can include any of the store's many decorative boxes along with their purchases.
For customers who'd like to learn more about saints before gifting their loved ones with engravable saint medals, Discount Catholic Products ™ has launched a new Catholic saints encyclopedia on their website. The patron saints list contains the biographies of hundreds of Catholic saints, allowing visitors to learn more about the lives of their favorite saint. These biographies also help customers select the perfect saint medal to represent their affections and wishes.
Individuals who adore the musical talents of their partners, for instance, may want to gift them with a sterling silver medal of St. Cecile, who was noted for her musical ability. Those who wish good health on their loved ones, on the other hand, may find a medal of the miraculous healer St. Gemma Galgani a thoughtful present.
"Above all else, the Bible teaches us to love one another," says Padula. "We can enrich our Valentine's Day celebrations through an affirmation of our faith."
Customers looking to send multiple gifts will be pleased to know that the store offers free shipping for purchases worth $75 or more. Those looking to send Valentine's Day gifts to the people close to their hearts will be able to do so with significant savings.
For more information, please visit http://www.discountcatholicproducts.com.
About Discount Catholic Products ™
As an online presence in the Catholic community since 2003, Discount Catholic Products™ is committed to providing a great selection of Catholic gifts and superior customer service. Our wide collection of rosary beads and patron saint medals speak for themselves and make wonderful gifts to loved ones. We take pride in our products and offer the best gifts for First Communion, Baptism, and other special occasions.
###