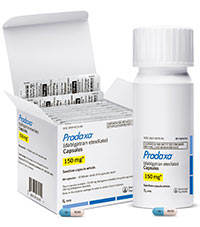 We are investigating claims that involve serious and/or fatal bleeds in patients taking Pradaxa
(PRWEB) February 08, 2012
On December 7, 2011, the U. S. Food and Drug Administration (FDA) issued a Safety Communication reporting that it was investigating reports of serious and fatal bleeds in patients taking Pradaxa. Pradaxa is a blood thinning medication (anticoagulant) used to reduce the risk of stroke and blood clots in patients with non-valvular atrial fibrillation (AF). David Ennis of Ennis & Ennis, P.A. states, "We are investigating claims that involve serious and/or fatal bleeds in patients taking Pradaxa."
The FDA's warning followed numerous adverse event reports, as well as publications regarding the increased volume of serious bleeds associated with Pradaxa. On October 6, 2011, the Institute for Safe Medication Practices, (ISMP), reported that Pradaxa moved to near the top of their adverse event rankings, with more reports than 98.7% of the drugs it regularly monitors. ISMP's report discusses the hemorrhages associated with Pradaxa, as well as the rapid launch of the medication, thereby resulting in hundreds of adverse events reports within weeks of approval. Then on November 18, 2011 the European Medicines Agency (EMA), Europe's FDA equivalent, reported a worldwide total of 256 fatal bleed incidents involving dabigatran, the active ingredient in Pradaxa.
From FDA approval in October 2010 through August 2011, approximately 1.1 million Pradaxa prescriptions were dispensed.
Ennis & Ennis is offering free, nationwide, confidential consultations to anyone who has suffered a serious bleed, such as a brain bleed or a gastrointestinal bleed, while or shortly after taking Pradaxa, by calling toll free 1-800-856-6405 or by going to http://www.ennislaw.com and completing an online case evaluation form.
Ennis & Ennis, P.A. is a nationwide law firm with offices in Ft. Lauderdale, Miami and Washington D.C. that concentrates its practice in mass torts, representing individuals against pharmaceutical companies as well as medical device makers.
Ennis & Ennis, P.A. has been representing clients individually since 1986 and has recovered over $100 million in settlements for its clients.
Ennis & Ennis, P.A. is also investigating cases involving Actos, Fosamax, Plavix, Paxil, Zoloft, Prozac, Depuy Hip Recall, Wright Conserve Hip Devices, Wright Profemur Hip Devices, Zimmer Hip Recall, Depakote, Reglan, SJS/Dilantin, Yaz, Yasmin, Ocella Birth Control Pills, and Transvaginal Mesh Devices.
Remember the law limits the time in which you can file a claim, so don't wait to explore your legal rights. Call today toll free 1-800-856-6405 or visit http://www.ennislaw.com.
###