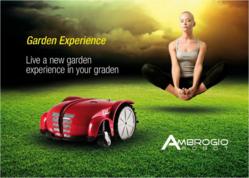 Did you know that a traditional fuelled lawn mower working for just one hour emits the same Co2 emissions as that of 35 cars travelling 100 miles? Fact EPA Website Source
(PRWEB UK) 10 February 2012
AutoLawnMow, Britain's largest distributors of the Ambrogio Automatic Robot Lawn Mowers http://www.robotlawnmowers.co.uk, launches its revolutionary brand new range of Retro Style Ambrogio Automatic Robot lawn mowers for 2012.
The latest space age generation of Automatic Robot Lawn Mowers in the world has arrived. Utilizing the latest technologies, engineering, innovation as well as know-how.
AutoLawnMow UK provides over 10 years in experience and offers a professional home fitting service option on all its automatic lawn mowers. AutoLawnMow trained fitters can visit your home and carry out a professional installation of your new Ambrogio lawn mower.
The Ambrogio robot is Britain's No1 brand choice in automatic lawn mowers since its first introduction to the UK market way back in 2001. Ambrogio automatic robot lawn mower has grown into the largest range available in the UK market today.
Ambrogio is the most famous brand of automatic lawn mowers in the world because of a few important technologies and patented features such as the Ambrogio robots are the only automatic lawn mowers in the world that can mow for up to 12 hrs per day based on the model and lawn size.
The Ambrogio robot range is available in the UK and Ireland by AutoLawnMow and when it comes to quality and power in automatic mowing look no further than AutoLawnMow for friendly advice.
Before considering purchasing any automatic robot lawn mower in the UK or Ireland The first website robot store online should be at AutoLawnMow UK http://www.robotlawnmowers.co.uk. All automatic robot mowers come with a full two year warranty.
AutoLawnMow offers a friendly national sales and information line plus customer service lines for customers and enquiries to call in whenever they have questions on their minds about purchasing an automatic robot lawn mower for the first time.
AutolawnMow has be serving customers across the UK and Ireland and are the pioneers of the automatic lawn mowers Industry for many years offering professional honest advice to consumers.
For More information visit
The Ambrogio Robot Lawn Mower
http://www.robotlawnmowers.co.uk
Tel: + 44 1536210216
Ambrogio Robot Lawn Mower Model L200
http://www.robotlawnmowers.ie
Tel: + 353 14370886
AutoLawnMow Leaders in Automatic Robot Lawn Mower UK & Ireland
# # #