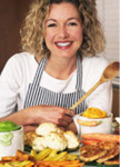 There are things you can feed your family that will help to fight off the flu.
Boulder, CO (PRWEB) February 15, 2012
It's flu season. Every kid in class has a runny nose and there are coughs coming from the cubicles at work. What can be done to protect a family from the flu?
"The foods we eat are directly related to how we feel and how our bodies defend themselves against disease," says Christina Schmidt, author of The Toddler Bistro: Child-Approved Recipes and Expert Nutrition Advice for the Toddler Years(Bull Publishing Company, ISBN: 978-1-933503-19-6, $16.95).
"Healthy foods and nutrients can arm you and your family to prevent or at least hasten a speedy recovery from those nasty bugs that circulate in schools and work places," Schmidt adds.
As the mother of two young daughters, she knows the importance of good health first-hand. She also knows that the flu can turn home life upside-down, but is quick to point out the good news, "there are things you can feed your family that will help to fight off the flu."
Here are Christina Schmidt's top five flu-fighting food tips
1. Count the colors
How many colors can your child count and then eat on their plate? Brightly colored fruits and vegetables are beacons of health when it comes to empowering bodies to battle seasonal cold and flu bugs.
2. Get fruity
Add chopped fresh or dried fruits to baked dishes, pancakes, cereals, salads, or just serve them as snacks. Try for two or three servings a day.
3. Serve up some soup
Soup is a SUPER way to fortify your child with power nutrients. Pumpkin, butternut, tomato, broccoli, or chicken and vegetable soups offer big health benefits. Add on fun toppings like little goldfish crackers or swirl in some yogurt to encourage them to clean their bowls. Stir extra cooked vegetables and chopped or ground lean meat into a pot of spaghetti sauce too, for a warm, delicious bowl of super spaghetti to fortify your family.
4. Boost your child's body
A bowl of fortified, fiber cereal and yogurt will give the body a boost. Fortified cereals like oat O's offer extra vitamins and minerals, and yogurt provides probiotic power to fight off infectious bacteria.
5. Forget frying
Put away the pan and skip added sugars! Go for naturally sweetened foods and beverages and try roasted, steamed, or slow-cooked dishes instead of frying up potatoes or meats. These diet alterations will automatically replace saturated fat and sugars that undermine the immune system and will increase disease-fighting vitamins and minerals into your child's daily diet.
"In addition to getting plenty of rest and practicing diligent hand washing techniques, eating a healthy, balanced diet with a variety of brightly colored fruits and vegetables, whole grains, beans, seafood and lean meats can help boost immunity," adds Schmidt. The yummy recipes in The Toddler Bistro use these great tips and will help your family fend off the flu.
###