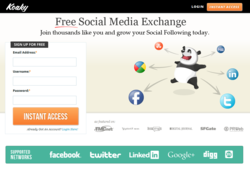 I'm very excited an optimistic now on how Koaky will become the next big thing in social media.
--Jonathan Kennedy
Cebu, CEB (PRWEB) February 09, 2012
Clicking Labs the leading provider of Web 2.0 business applications launched its free social media sharing tool, Koaky in late 2011. Koaky is a social media exchange platform that helps businesses, individuals and organizations grow their social networks through a unique and mutual system. Koaky is simple to use to get Facebook likes, Twitter followers, Web traffic and shares.
Today, the team behind Koaky is proud to inform the public that they have increased their membership by 100% since starting out in December. "It's amazing how quickly these things happen. I'm very excited an optimistic now on how Koaky will become the next big thing in social media. We can't wait for Koaky to grow even bigger in the coming month", says Business Development – Managing Director, Jonathan Kennedy.
"This is fantastic news for all of us. It's an amazing feeling to know when other people value and appreciate all the hard work you put in to a project. It's exhilarating and the adrenaline rush is crazy. We just want to keep it improving even more so. We want to make sure all glitches are fixed, people understand and that our community is happy" adds partner and Managing Director, JP Bisson.
Koaky is the latest service online to easily grow your social networks. The process is simple and easy to use. It works on a point system in order to regulate the credits necessary to earn fans, followers and likes. Koaky currently offers the following social networks such Facebook, Facebook Share, Twitter, Retweet, Digg, Google Plus, Stumble Upon, and LinkedIn. The team is currently in development for Tumblr services.
To learn more about Koaky, visit their website at http://www.koaky.com and start growing social networks.
About
Koaky is a wholly owned company by Clicking Labs. With dedication and perseverance they were able to bring together a diverse team of web professionals to provide internet businesses with creative web marketing strategies. Founded in Ottawa, Canada, the company has expanded operations to Cebu, Philippines in early 2011 to better serve its clients.
###