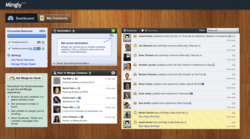 "Mingly is focused on the next frontier in technology, which will turn these disjointed pieces of information across the social graph, into actionable intelligence that helps us build lasting personal bonds and drive business goals" Tyler Koblasa - CEO
San Francisco, CA (PRWEB) February 08, 2012
Mingly, Inc., creator of technology that enables professionals to build and maintain meaningful relationships, announced the launch of two new products today: Mingly for Web and MyPeople. These new offerings, along with Mingly's first product, Mingly for Gmail, are powered by the company's Social Interaction Mapping (SIM) engine to help users stay both informed and proactively in touch with the people important to their success.
Mingly was founded with the belief that our relationships are our most valuable assets. However, with contacts and interactions scattered across email and social networks, it's increasingly difficult to stay in the loop. Too often, we miss key life events and business opportunities, and fall off the radar of potentially important contacts. Founder and CEO Tyler Koblasa explains, "I think we can all relate to the irony of being very well 'connected,' having access to information 24/7, and yet still losing touch with people we care about."
Mingly is on a mission to help people unlock the full power of their network and make it easy to stay in touch with important contacts in genuine ways.
Last fall, Mingly announced the launch of its first product, Mingly for Gmail. With this browser plug-in, Mingly created a unified social address book that merges contacts from Gmail, Facebook, LinkedIn, and Twitter. Users can stay in the know about their network and engage across the various platforms without leaving their inbox.
Today, Mingly for Web extends the product capabilities outside of Gmail, giving a much broader audience access to Mingly's relationship intelligence from any browser. After connecting social network accounts, users quickly get the personal assistant they've always wanted.
Mingly:

Alerts users before they fall out of touch with important contacts, across email, Facebook, LinkedIn, or Twitter.
Surfaces and notifies users about key events in their contacts' lives (job changes, birthdays, relocations, etc.), providing genuine ways to reach out and build relationships.
Keeps track of new connections, and encourages users to follow up, set keep-in-touch reminders, and tag people in groups.
Captures important information about contacts (time since last contact, bios, social updates, and conversations), and makes it readily available in a brief contact snapshot.
MyPeople is Mingly's new personalized email digest that gives users everything they need to keep informed and in touch, whether at a computer or on the go. With a choice of receiving MyPeople daily or weekly, users can plan their outreach accordingly and quickly send email, Facebook, LinkedIn, or Twitter messages from one place.
"There's a huge segment of independent professionals whose needs have been neglected," explains Koblasa. "After countless conversations with entrepreneurs, small businesses, consultants, realtors, and financial advisors, we've learned that their business depends on cultivating real relationships that generate a solid base of referrals. These professionals are frustrated with current CRMs because while they are great for deal and revenue tracking, CRMs don't help in the crucial 'above the funnel' need for building true connections."
Mingly's products demonstrate the power and potential of its SIM engine, which currently tracks nearly 10M contacts, 3M social network profiles, and 100M total interactions to surface a multi-dimensional analysis of social connectedness. Koblasa explains that this is only the beginning: "Mingly is focused on the next frontier in technology, which will turn these disjointed pieces of information across the social graph, into actionable intelligence that helps us build lasting personal bonds and drive business goals."
Mingly for Web, Mingly for Gmail, and MyPeople are available at getmingly.com. A mobile version and integration with popular CRM software is currently in development.
About Mingly
Mingly is dedicated to turning social-network information overload into valuable and actionable insights. With so many fragmented sources of information and communication, staying connected with the people that matter is increasingly challenging. Mingly makes it easy to nurture new relationships and sustain existing ones. The company was founded in 2010 by Tyler Koblasa after winning Startup Weekend L.A. Mingly is based in San Francisco and is a network company of Idealab, a creator and operator of technology companies.
For more information, please visit: getmingly.com or follow the company on Twitter at @getmingly or on Facebook at facebook.com/getmingly.
###