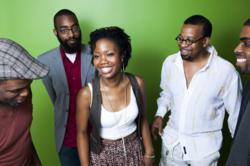 "Bill has created an exciting new fusion of Jazz, Soul and Funk both instrumentally and vocally"
Fred Taylor, Entertainment Director, Scullers Jazz Club
Boston, MA (PRWEB) February 08, 2012
The Jazz Urbane is a contemporary music movement which embraces and infuses jazz with great R&B song writing, melodies, grooves and style. It's not really a "new movement", but a new configuration of mindset. The idea, both philosophically and as a demographic, is that Jazz Urbane artistry is mature, sophisticated and creative, while providing a groove that ANYONE can feel. The result is a progressive cultural musical response; the Jazz Urbane.
William(Bill) C. Banfield currently serves as professor of Africana Studies/ Music and Society, director of Africana Studies programs, Berklee College of Music. Prior he as served as the Endowed Chair Humanities, Fine Arts, professor of Music, director of American Cultural Studies/Jazz, Popular, World Music Studies, University of St. Thomas, MN(1997-2005). A native Detroiter, he received his Bachelor of Music from the New England Conservatory of Music in Boston, a Master of Theological Studies from Boston University and a Doctor of Musical Arts in composition from the University of Michigan. Watch videos here.Tune in to WICN for a pre-show interview.
Saxophonist, composer, producer and educator Greg Osby has made an indelible mark on contemporary jazz as a leader of his own ensembles and as a guest artist with other acclaimed jazz groups for the past 20 years. Highly regarded for his insightful and innovative approach to composition and performance, Osby is a shining beacon among the current generation of jazz musicians. He has earned numerous awards and critical acclaim for his recorded works and passionate live performances.
Click here for biographical information about Joey Blake
Scullers Jazz club
At the Doubletree Suites by Hilton Hotel Boston
400 Soldiers Field Road
Boston, MA 02134
For tickets and information: 617.562.4111
Since 1989, the legendary Scullers Jazz Club has presented the biggest names in straight ahead, Latin and Contemporary Jazz, as well as Blues, Soul, R & B, Cabaret and World Music. Scullers Jazz Club has hosted some of the very best musical artists in the business including; Chris Botti, Roy Haynes, Jamie Cullam, David Sanborn, Arturo Sandoval, Christian Scott, Tony Bennett, Esperanza Spalding, Christian McBride and Wynton Marsalis to name a few.
Led by Jazz impresario Fred Taylor and by a team of dedicated jazz enthusiasts the 200-seat Scullers Jazz Club has become a true Boston landmark. Offering spectacular views of the Boston skyline and the Charles River, Scullers serves as the perfect backdrop for World-Class Entertainment in Boston
###