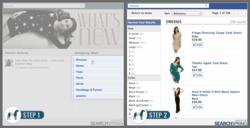 Colorado Springs, CO (PRWEB) February 13, 2012
SearchSpring LLC, a leading eCommerce site search vendor released an updated version of their Facebook business page application - Facebook 2.0. This application integrates a live shopping catalog with search and navigation capabilities directly onto any Facebook fan page. Whether the organization sells fashion retail to automotive parts this application helps harness the power of social media to provide an additional outlet to increase success rates of social media sales and marketing campaigns.
Now customers can view and browse products and categories immediately after opening the store tab of an organizations Facebook page. No more extra clicks! Just open the tab and begin browsing the full-featured SearchSpring catalog.
FEATURES OF THIS APPLICATION INCLUDE:
POWERFUL SEARCH AND NAVIGATION CAPABILITIES – Allow customers to browse or search specific products directly from Facebook. A product feed from the shopping cart or eCommerce software provides regular updates to SearchSpring to ensure syndicated product information is current. First-class support for popular platforms like NetSuite, 3dcart, Yahoo, Volusion, Miva Merchant, and hundreds more platforms make SearchSpring virtually plug-and-play for thousands of e-tailers.
CREATION OF USER GENERATED CONTENT – Integrating the display of a "like" button next to all products in the search and navigation interface. Users can also rate and leave comments regarding product experiences.
Users who click the "like" button on a particular product can share the image and product description with friends on both the activity feed and on his/her personal page. Generate additional exposure for the organization by allowing customers to market products for the organization. The end result increases a company's exposure via social media and adds credibility to branding initiatives.
SALES AND PROMOTIONAL BANNER ADS – The application landing page displays customizable banner ads to drive sales and educate customers.
CENTRALIZED MANAGEMENT OF ALL CUSTOMER INTERACTIONS – Within the application-landing page sellers can now review and respond to all shopper inquiries, ratings of their store and comments on their products, streamlining the customer engagement process and ensuring sellers stay in the center of the conversation.
SETUP TAKES LESS THEN 10 MINUTES - Requires no programming or web design knowledge and promotional link-sharing tools are already optimized for social media. – SearchSprings software-as-a-service (SaaS) works by integrating on top of merchants existing shopping cart software or Facebook page. SearchSprings category refinements for size, color, price range and many other attributes can be easily added to existing website category pages without compromising SEO, utilizing AJAX technology.
PRESERVES SEO RANKINGS - While similar applications redirect users from the Facebook fan page to the site shopping cart once an item is selected, the redirection may negatively impacts site conversions and bounce rates if shoppers are still looking to collect additional information or view a larger image. If a good portion of traffic is being driven to a site and few conversions occur the site may experience high bounce rates negatively impacting SEO rankings.
With SearchSprings new application all research and product evaluations are completed directly inside the Facebook.com domain preserving the social experience and SEO rankings.
BTO Sports was one of the first SearchSpring clients to integrate the first version of this application earlier in 2011 - (facebook.com/btosports). BTO Sports identified benefits provided from this service as a new outlet for sales and marketing via social media, user generated content and online exposure from followers posting reviews and liking products, on top of continuous expansion of social networks generated from increased exposure. Implementation of the application comes at no additional charge to premium customers; however, the increased queries may require some organizations to increase their usage license.
For more information regarding the application, customer feedback from users of the application, or general inquiries regarding faceted search and faceted navigation powered by SearchSpring – please contact SearchSpring.
Visit http://www.SearchSpring.net
Call toll free at (888) 643-9043
Drop a line on Facebook.com/SearchSpring or tweet @SearchSpring
Email: Info(at)SearchSpring(dot)net
# # #