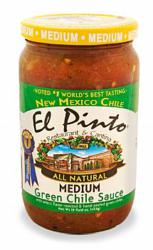 This Valentine's Day start your night off right with El Pinto and the natural aphrodisiac in El Pinto green chile salsa. -- Jim Thomas
(PRWEB) February 08, 2012
Green chile is a natural aphrodisiac ready to get the night started on a natural high. El Pinto green chile salsa is served with every entrée, and don't be afraid to smother your meal in this natural aphrodisiac. A little tingling on the tongue from the hot green chile salsa will only help to leave a fiery kiss on her lips. This Valentine's Day, all meals are 20% off at El Pinto with a free discount voucher available at elpinto.com/deals.
Enjoy a freshly cut piece of salmon with green chile salsa for a heart healthy meal or a tender steak smothered in green chile for a distinctively New Mexican twist on a classic entrée. Of course the popular combination plate with a homemade tamale, enchilada, and hand-dipped chile relleno all covered in green chile salsa is always a New Mexican classic. All meals on Valentine's Day are 20% off with a free voucher available at elpinto.com/deals.
This Valentine's Day, enjoy the romantic ambiance of El Pinto's natural wood fireplaces, indoor water falls, and natural foliage growing throughout the restaurant. "El Pinto has a 50-year tradition in making quality and fresh New Mexican cuisine," said John Thomas, co-owner of El Pinto Restaurant along with his twin brother Jim Thomas. "Our tradition was started by my grandmother, and her recipes continue to make hearts happy with flavorful green chile sauce and outstanding New Mexican cuisine to this day."
El Pinto will be open for dinner until close at 10 p.m. on Valentine's Day. The 20% discount is available for lunch or dinner on Valentine's Day with the voucher available through elpinto.com/deals. Reservations are not required because of El Pinto's expansive space, but be confident the many rooms and patios comprising El Pinto Restaurant will help to ensure a romantically private evening with a loved one.
About El Pinto Restaurant & Cantina:
Established 50-years ago, El Pinto is a quintessential icon for New Mexican cuisine. Conveniently located in the North Valley of Albuquerque just off I-25, the serene patios located under beautiful cottonwood trees provide an iconic experience. El Pinto is known nationally for its fire-roasted green chile and fresh flavorful salsa distributed across the national in local grocery stores. El Pinto salsa is available online at ElPinto.com. The salsa and green chile factory is located on the same grounds as the restaurant. For an authentic taste of New Mexico, visit El Pinto for its iconic food, traditional margaritas, and award winning chile. http://www.elpinto.com
###