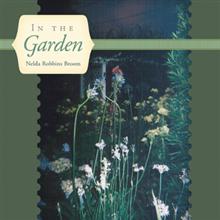 PASCAGOULA, Miss (PRWEB) February 09, 2012
In her new book of Christian inspiration, "In the Garden" (published by CrossBooks), Nelda Robbins Broom shares her personal reflections on her life, her memories of having her life upturned by Hurricane Katrina and her relationship with God and the Bible.
In the aftermath of Hurricane Katrina, Broom spent the greater part of the day assessing the damage to her home – a surreal experience to say the least.
"It was like pressing fast-forward on my old tape player and being unable to rewind to the comforts of yesterday," she says.
As do many, Broom turned to God and the Bible in this trying time, finding particular inspiration in one passage: Philippians 4:19, which reads, "But my God shall supply all your need according to his riches in glory by Christ Jesus."
As if it was a message delivered straight to her heart, she took the arrival of a disaster relief team from Meadowview Reformed Presbyterian Church of Lexington, North Carolina as a sign from God – one that would inspire her to write "In the Garden."
Broom's book is a mixture of prose, poetry, prayers and scripture celebrating the goodness, mercy and grace of God. "Many people are searching for something concrete to believe in," she says. She hopes her poems help readers find their way to their beliefs. As she says, "God is faithful."
About the Author
Nelda Robbins Broom is a native of Columbia, Mississippi. She lives in Pascagoula, Mississippi on the coast of the Gulf of Mexico, with her husband of 55 years, Narvel. They are the parents of four adult children and grandparents of 11. She is a member of First Baptist Church and Women's Missionary Union. Her hobbies are gardening and writing. She is a longtime member of Mississippi Poetry Society, Inc., Writers Unlimited and the National Federation of State Poetry Societies, Inc.
CrossBooks, a division of LifeWay Christian Resources of the Southern Baptist Convention, is a Christian publishing imprint committed to bringing more Christian voices into the publishing industry. Established authors, first-time authors, and authors anywhere in between can meet their goals and fulfill their vision for their books by publishing with CrossBooks. CrossBooks' innovative style of publishing blends the best of traditional and self-publishing. While our authors contribute monetarily to cover the cost of publishing, we maintain a strict moral and quality standard that every manuscript must meet for us to publish. For more information on publishing your Christian book with CrossBooks, log on to crossbooks.com or call 1-866-879-0502.
###