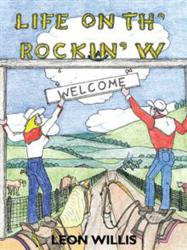 HOHENWALD, Tenn. (PRWEB) February 09, 2012
Leon Willis' new graphic novel "Life on th' Rockin' W" (published by WestBow Press) is a tale of the everyday life of a loving working family on a small working ranch with a host of animals, especially horses.
In this graphic novel, which is compiled from the collected strips run in a weekly newspaper, a father, mother and seven children all lead their lives on the ranch. The stories reinforce Willis' themes of love of family, always doing what is right and always doing one's best. Each of his characters, at different times, provides a role model for readers of all ages, making this book accessible to anyone. The lessons – life lessons, religious lesson, even humor – are what give "Life on th' Rockin' W" its appeal.
At the end of the day, Willis hopes readers will take away from "Life on th' Rockin' W" simple comfort. He hopes for them "… a feeling of security, or that there is a better way of life than our plastic lives today."
About the Author
Leon Willis started the story of "Life On Th' Rockin' W" in 1964. He has always loved horses, worked horses, and had a passion to draw. With that combination, he began to create a story in the form of a comic strip, of a family's struggles, good times, and adventures on a ranch. After the completion of 16 pages, he submitted the idea of "Life On Th' Rockin' W" to The Tennessean to become one of the paper's comic strips. They rejected the idea, and Willis returned home somewhat disappointed.
In 2009, 45 years later, Willis resurrected his long-neglected dream. The local weekly newspaper began to publish the comic strip and soon built a dedicated following of readers. This book collects the comic strip in its entirety. Willis is also author of the coloring book "Sparky and Some Friends," created from the story of "Life On Th' Rockin' W".
WestBow Press is a strategic self-publishing alliance of Thomas Nelson, Inc., the world's largest Christian publisher, and Author Solutions, Inc. (ASI) — the world leader in the popular self-publishing industry segment. Through this partnership, authors benefit from the rich publishing heritage of Thomas Nelson and the speed-to-market advantages of the ASI self-publishing model. Titles published through WestBow Press are evaluated for sales potential and considered for publication under the Thomas Nelson imprint. Thomas Nelson, Inc. continues to "inspire the world" with distribution of products in more than 100 countries worldwide. For more information, or to start publishing today, visit http://www.westbowpress.com or call (866)-928-1240. Follow us @westbowpress on Twitter for the latest news.
###