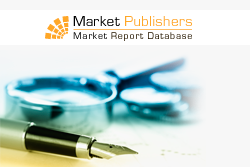 London, UK (PRWEB) February 08, 2012
The ongoing economic recovery contributed to a notable rise in energy efficient internal combustion engine (ICE) demand, which increased from a total global value of USD 80 billion in 2009 to USD 121 billion in 2011. Despite near term softening in emerging markets, the global efficient ICE market is expected to reach USD 401 billion by 2021.
The market expansion expected for efficient ICEs maintains strong roots in the automotive and light truck industries. Among other key markets are ground transport, distributed power generation, marine transport, and industrial/mechanical uses, including mineral extraction, petroleum extraction, wastewater treatment, and many other industries where mechanical energy is not typically provided by electric motors.
New research study "Fuel Efficient Internal Combustion Engine (ICE) Technologies Worldwide" prepared by SBI has been recently published by Market Publishers Ltd.
Report Details:
Title: Fuel Efficient Internal Combustion Engine (ICE) Technologies Worldwide
Published: February, 2012
Pages: 224
Price: US$ 4,950
http://marketpublishers.com/report/industry/energy/fuel_efficient_internal_combustion_engine_ice_technologies_worldwide.html
The study provides an extensive review of the global market for fuel efficient ICEs from 2006, as well as projects and trends through 2021. It also profiles leading startups and established manufacturers of fuel efficient ICEs that are most relevant to the fuel efficient ICE industry.
Efficient ICE technologies covered in the report include: engine deactivation, cylinder deactivation, variable valve timing and lift, turbochargers and superchargers, direct fuel injection, homogeneous charge compression ignition, reduced displacement engines, hybrids and partial hybrids, split cycle engines, and opposed piston/opposed cylinder engine designs.
Report Contents:
Chapter 1 Executive Summary
Scope
Global Fuel Usage and Efficiency
Figure 1-1: Realized Transportation Energy Efficiency Savings, Canada, 1990-2008 (Barrels of Oil Equivalent)
Internal Combustion Engines and Fuel Efficient Internal Combustion Engines
Figure 1-2: United States Car and Light Truck Fuel Efficiency Standards (CAFE), 1978-2010
Existing and Anticipated Applications
Fuel Efficient ICE Systems: System Descriptions and Requirements
Table 1-1: Overview of EICE Technologies
Environmental and Social Benefits of Fuel Efficient ICEs
Figure 1-3: Percent of Fuel Consumed for EICEs versus Conventional ICEs, Per Unit Output
EICE Market Assessment
Engine Deactivation
Cylinder Deactivation
Variable Valve Timing and Lift
Turbochargers and Superchargers
Direct Fuel Injection
Homogeneous Charge Compression Ignition
Reduced Displacement Engine
Hybrid and Partial Hybrid
Split Cycle Engines
Opposed Piston/Opposed Cylinder Engines
Total EICE Market
Figure 1-4: Global Market for EICE Technologies (Billion US Dollars)
Industry Trends
Conventional ICE Cost Ranges
Figure 1-5: Engine Cost Ranges ($/Horsepower)
EICE Components Cost Ranges
Table 1-2: Additive Incremental Cost Data for EICE Systems, Based on Consumer Class Vehicles in the U.S. (Percent of Total Conventional ICE Cost)
Air Emissions Reduction
Table 1-3: Incremental CO2 Emission Reduction of Specialized Components and Auxiliary Systems Implementation
...
More new market research studies by the publisher can be found at SBI page.
###