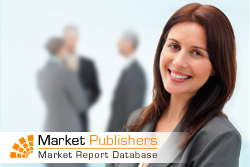 London, UK (PRWEB) February 08, 2012
The area of anti-infectives represents an exciting frontier for development of potential life-saving products. However, there are a number of issues and trends that have a direct influence on this market and the manufacturer's ability to successfully operate in the market.
New market research report "World Market for Anti-Infectives (Antifungals, Antibacterials and Antivirals)" worked out by Kalorama Information has been recently published by Market Publishers Ltd.
Report Details:
Title: World Market for Anti-Infectives (Antifungals, Antibacterials and Antivirals)
Published: February, 2012
Pages: 220
Price: US$ 3,800
http://marketpublishers.com/report/medicine_pharmaceuticals_biotechnology/drugs_biotechnology/orld_arket_4_nti_nfectives_ntifungals_ntibacterials_n_ntivirals.html
The report highlights three key segments of treatment:

Antifungals (Allylamines, Azoles, Polyene Macrolides, Other Antifungals)
Antibacterials (Aminoglycosides, Carbapenems, Cephalosporins, Macrolides, Penicillins, Quinolones, Sulfonamides, Tetracyclines, Others)
Antivirals (Nucleoside Analogs, Transcriptase Inhibitors, DNA Polymerase Inhibitors, Protease Inhibitors, Other Antivirals)
The report examines both currently marketed and late stage development products. Revenues for each segment were generated using dollar and unit sales for each product. It covers statistical information for infections by type worldwide, with special emphasis on the U.S. and Europe. The market segments provide an overview, description of products on the market, description of products in development, market estimates and forecasts, and competitive analysis of leading providers.
Report Contents:
CHAPTER ONE: EXECUTIVE SUMMARY
Introduction
Scope and Methodology
Total Size and Growth of the Market
Issues and Trends Affecting Market
Leading Competitors
CHAPTER TWO: INTRODUCTION AND INDUSTRY TRENDS
Overview
Introduction to Pathogens
Demographics of the World
Life Expectancy
Infections and Drug Resistance
Causes of Drug Resistance
Drug Resistance in Select Populations
Measures for Reducing Resistance
HIV Trends
Manufacturer and Marketer Trends
Trends in Partnerships and Alliances
Developers Trends
Aradigm
ARD-3100
Phase II
Cystic fibrosis
ARD-3150
Phase II
Bronchiectasis
ARD-1100
Preclinical
Inhalation anthrax
Trends in Rx-to-OTC Switches
CHAPTER THREE: ANTIFUNGAL DRUGS
Overview
Types of Fungal Infections
Superficial
Systemic
General Fungal Infection Statistics
Fungal Infection Risk
Description of Antifungal Products
Systemic Antifungals
Topical Antifungals
Market Overview
Total Market Size and Forecast
Antifungal Market by Product Type
Antifungal Market by Geographical Region
Market Analysis by Treated Condition
Competitive Analysis
Leading Products
CHAPTER FOUR: ANTIBACTERIAL DRUGS
Overview
Classification of Antibacterial Organisms
Antimicrobial Spectrum
Bacterial Resistance
…
More new market research reports by the publisher can be found at Kalorama Information page.
###