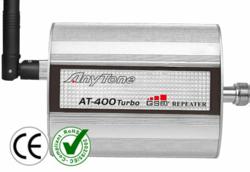 Calvi, France (PRWEB) February 10, 2012
MyAmplifiers.com launches a new mobile repeater. The equipment can easily improve the quality of cellular communication and extend mobile coverage in any small-sized locations up to 120m2.
Inessa Brown, VP of Sales by MyAmplifiers.com, shares strategy of the company and optimistic thoughts concerning the new model: "The new AT400 Turbo mobile GSM booster is an improved version of the most popular amplifier designed for improving cellular communication. Having analyzed preferences and requirements of our clients we have decided to upgrade our best selling mobile repeater AT400 AnyTone."
The mobile repeater AT400 Turbo has been unveiled this week, and the first sales were made on the first day. According to the first happy owners of the new model, they have expected some affordable yet powerful device that will end up with poor mobile reception in their houses. The most expected feature, as they say, is an extended coverage of 120 m2.
"We are sure that the new GSM repeater will gain popularity as it can boast of high capacity, extended coverage area, compact dimensions and excellent performance," announces Inessa Brown, "Developing a new device our major purpose was to keep the best features of AT400 mobile repeater such as high effectiveness, compact size, small weigh, easy installation. The point is all these features are very important for our clients, so we decided to keep them up adding even better characteristics to the new AT400 Turbo."
MyAmplifiers.com is a famous distributor of AnyTone cell phone repeaters designed for boosting mobile coverage and cellular signal reception. The headquarters of the company is located in Calvi, France, but having developed a wide network of stocks and offices in different spots of the world, MyAmplifiers.com started working on the international scale. Today MyAmplifiers.com offers their clients fast delivery to any corner of the globe. You can contact representatives of the company by email, phone, Skype or live chat. You can also get further information on the official website MyAmplifiers.com.
# # #