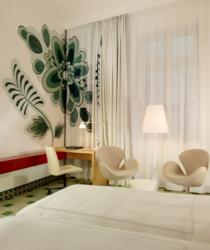 Our guests will be amazed by the architecture of our hotel", says Yvette Thüring, General Manager at Swissôtel Dresden Am Schloss
Zurich, Switzerland (PRWEB) February 08, 2012
Situated opposite the Residence Castle and boasting 214 Swiss Advantage and 16 Grand rooms plus five elegant suites, the hotel is the perfect place for guests to relax. All room categories feature cutting-edge technology and free internet access, as well as a modern atmosphere at a top location: the late Baroque Semper Opera and Zwinger Palace, as well as the world-renowned Frauenkirche, are all only a few minutes' walk away. "Our guests will be amazed by the architecture of our hotel", says Yvette Thüring, General Manager at Swissôtel Dresden Am Schloss and originally from Switzerland. "The individual design of the facades and building in line with the historic original make the 235 rooms and suites impressive in their variety of layouts and views."
The restaurant "Wohnstube" offers guests contemporary Swiss cuisine based on regional and seasonal products. Clever and characteristic design provides a relaxed and private atmosphere. The Schlossbar, the hotel's vibrant hub, serves a full range of cocktails, regional beer specialities, selected wines and spirits to cosmopolitan hotel guests and a local clientele. Looking out onto the castle, the spaciously modern, approx. 500m² conference rooms are the ideal place for meetings and events of all kinds. A roof garden with views across the gabled roofs of Neumarkt is literally the hotel's crowning feature.
The 535m² wellness and fitness area, Pürovel Spa & Sport, incorporates an original vaulted cellar from the 15th century. Massages inspired by the Swiss mountains and fragranced with essential oils from Alpine herbs and meadow flowers will boost vitality. The range of services is rounded off with facial and cosmetic treatments. The nearby banks of the River Elbe are ideal for a morning run, relaxed stroll or bicycle ride.
The agreement with the developer Baywobau DD Schloßhotel GmbH & Co. KG was signed by the Zurich-based international hotel chain Swissôtel Hotels & Resorts in 2008. The hotel is run based on a lease contract and managed by Swissôtel Hotels & Resorts. Three building complexes at Neumarkt already bear the hallmark of the Dresden-based developer. In spring 2012, these will be complemented by the largest quarter in the city to date, the Neumarktquartier VIII, which will include the Swissôtel Dresden Am Schloss with its own underground car park.
The new hotel near the castle represents a further addition to the Swissôtel Hotels & Resorts portfolio on the German market, which was until now represented by properties in Berlin, Bremen and Düsseldorf/Neuss. For more information or to make a booking, visit http://www.swissotel.com/dresden or dresden(at)swissotel(dot)com.
###