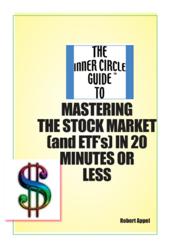 "Warts and all, the stock market is still the best odds most of us have to leapfrog tax brackets in our lifetime," says the book's author.
Seattle, Washington (PRWEB) February 09, 2012
The stock market, with all it peculiarities and defects, is still the single best opportunity for most of us to jump tax brackets, upwards, in our lifetime. That is the gospel according to Robert Appel, the author of "The InnerCircle Guide to Mastering Stocks [and ETFs] in 20 Minutes or Less," a brand-new Kindle release, published by InnerCircle Press.
The author of the book is a self-described "grumpy" market stock market guru who, as he explains in the work, has spent multiple decades "ghosting" other people's financial books and advice columns.
It's an interesting tale. Robert Appel started out in the 1970s as a lawyer, but ended up as a professional "ghost," writing mainly investment and financial books, ultimately moving into newsletters and advisories.
"A professional ghost is discouraged from revealing the names of past clients," explains the curmudgeonly author. "However, since one of my original employers has long since gone on to his greater reward, I will state that for several years I was the ghost for the late Charles J. Givens, author of multiple #1 New York Times bestsellers. In that capacity I wrote one entire book for him on personal investing, which became a bestseller in its own right, and also numerous newsletters and advisories on personal money management."
According to Appel, who has appeared on GOOD MORNING AMERICA and used to regularly contribute to the L.A. Times and Working Mother, it was a calling he simply could not shake; and even today in semi-retirement, dealing with assorted personal health issues, he is still ghosting a major advisory that covers US and Canadian markets on a 24/7 basis.
Appel's delivery is straight-forward and laconic, and gets right to the point. He casually observes that the advisory he is currently ghosting — which, he says, boasts one of the best performance records in the sector, during a very trying period for the markets in general — "charges so much for my words of wisdom that, under different circumstances, I myself would be reluctant to pay those rates just to hear what I had to say!"
Indeed, the author tends to 'snipe' at the various topics covered in his new ebook with the same passion and zeal a professional marksman might reserve for trying out a new scope. For example, in the "Lesson" dealing with whether to use a full service or a discount broker, Appel observes dryly that failure to go the cheaper route "simply means you are resistant to change. Get help!"
Which seems to be a repeating theme in Appel's book. Getting advice that is worth having in the first place.
"This is now a stock market with no boundaries, no ground rules," Appel says in an interview. "In the last few years the average holding period for a stock purchase has gone from 36 months to 22 seconds. That is not a misprint. You may want to stop the recorder and listen again to those numbers. All this is a direct result of the computers and AI software programs that our so-called government protectors have allowed, have permitted, to impose their will on markets. Today's stock market is more like a video game than a place of dignified commerce. Anything can happen. And often does."
Emphasizing once again that "you get the advice you pay for" – Appel is very very negative on mass-media commentators and anchors, claiming they try to come up with sensible explanations for things that have already happened, ex post facto, and often fail even at that – the reader is teased with the notion that, for a few dollars on Amazon, this Kindle product will tear the shutters off stock investing like no other.
"I basically put out there every single strategy and trick I had ever learned in my career. For example, when you pick up a smallcap on the hope that someday it will become a large-cap, what determines its valuation while you are waiting patiently for the financials, the day to day earnings, to catch up with the promise, the potential? The answer is the "story" – indeed, every stock has a story in its junior or startup phase, and one of the secrets I share is that you should always pick a stock with a "story" that one 8-year-old can tell another in less than 5 minutes. That secret alone has made millionaires."
"Every large cap was at one time a smallcap," Appel adds. "But the reverse is not true. And therein lies the challenge."
"My guarantee is that 20 minutes with this book will change your interaction, your relationship, with the stock market forever. Hopefully," Appel adds with a grin, "for the better."
"The InnerCircle Guide to Mastering Stocks [and ETFs] in 20 Minutes or Less" by Robert Appel is an Amazon Kindle title and available only from the monster e-retailer in e-book form. It is priced below $8.
The ASIN number of the book is: B0076QH310
The direct link to the book is http://www.amazon.com/dp/B0076QH310.
# # #