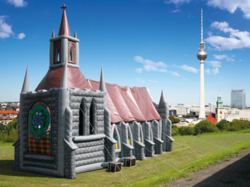 London (PRWEB UK) 10 February 2012
Looking for a fun way to show your commitment to your loved one this Valentine's Day? As the day for lovers nears, private accommodation company Wimdu.co.uk are offering couples the exclusive chance to participate in the most memorable of symbolic weddings.
On February 14th, for one day only, Wimdu.co.uk will be erecting a 15 metre high and 15 metre long inflatable church right in the heart of romantic Berlin. Placed in the historic Petriplatz, this unique venue is available to be booked in 15 minute slots for ceremonies between 10am and 6pm.
With enough capacity for 60 people you can fill this venue right up to its inflatable rafters. So bring all your closest friends and family along to watch as Wimdu's own registrar helps you and your loved one tie the knot in unforgettable style. But do not fear if your Valentine turns out to be full of hot air, Wimdu's wedding ceremony is purely symbolic and has no religious or legal status.
And of course no wedding would be complete without a honeymoon. Wimdu boasts hundreds of romantic properties in the heart of the city, perfect for spending a cosy evening with your loved one after the most memorable of days. This beautiful apartment is still available to be booked for Valentine's Day http://www.wimdu.co.uk/offers/AHTCSOOB.
Michael Riegel, CEO of Wimdu UK said "We are offering couples a truly unique way to show their love for each other. It may not be the white wedding that young girls dream of, but it's certainly a fun and memorable way to spend Valentine's Day in the romantic city of Berlin".
Book your special day now at http://www.wimdu.co.uk/offers/B85CR7QQ
About Wimdu
Wimdu is a social accommodation community that brings together travellers and hosts from around the world to enable consumers worldwide to travel like a local.
Wimdu enables hosts to generate additional income on their spare rooms, while guests can search for a room and a rate that suits them. The site lists a range of over 20,000 properties internationally across over 50 countries with everything from boltholes in Berlin to English castles.
Wimdu was founded in 2011 by serial entrepreneurs Hinrich Dreiling and Arne Bleckwenn who wanted to harness social media to transform the way consumers are travelling worldwide. Wimdu's Managing Director in the UK, Michael Riegel manages a team of over 30 and lists over 1000 properties nationwide.
###