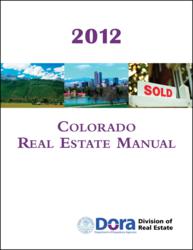 (PRWEB) February 10, 2012
The new 2012 Colorado Real Estate Manual is an important text for new applicants for real estate licenses and will also benefit practicing real estate brokers, appraisers, mortgage loan originators, and conservation easement professionals who need to keep up with new laws and requirements in Colorado. In addition to the current relevant statutes, the manual is an excellent resource for professionals who are interested in landmark case law, land history, and land descriptions. This comprehensive volume includes current Division of Real Estate Rules and Position Statements for brokers, mortgage loan originators, appraisers, and conservation easements, plus information about the new Board of Mortgage Loan Originators, mortgage Loan Originator Licensing & Mortgage Company Registration Act, significant updates to most chapters, and examples of seven of the most commonly used Commission-Approved forms including new and revised forms that became effective and mandatory as of January2012.
This book also includes detailed information about dozens of other important real estate topics, such as: real estate broker law, what the law does and does not cover; rules of the Colorado Real Estate Commission; subdivision laws; the Colorado Supreme Court Conway-Bogue decision; the three major evidences of title; information about choosing a real estate broker; essential elements of real estate contracts; foreclosure, deeds of trust and liens; conservation easements rules and requirements for closings and different closing examples; general concepts and guidelines necessary to establish and maintain all escrow accounting records; property management and leases; sale of a business factors; overview of the rules for individual taxpayers that pertain to the acquisition, ownership, and sale of residential real estate; overview of the fair housing provisions within the Federal Civil Rights Acts, and much more.
About Bradford Publishing Co.
Founded in 1881, Bradford Publishing Company is Colorado's oldest and most trusted publisher of legal information, including legal forms, electronic legal forms, law books, and Colorado statutes. With a retail store and offices in Denver's historic LoDo district, Bradford Publishing provides legal forms and reference materials on a variety of legal topics for attorneys, other professionals, and consumers.
Their commitment to quality is the cornerstone of Bradford's business philosophy and they regularly update the content of their books and other publications, so consumers can rely on the most accurate and current information available.
###