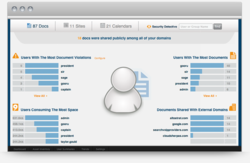 DomainWatch helps us safeguard data that is important to the hospital and its patients.
- Tyler Asbury, Integration Analyst at Wyoming Medical Center
NEW YORK, New York (PRWEB) February 08, 2012
A developer of cloud-based applications that enrich Google Apps, BetterCloud has launched DomainWatch, a new security and compliance app for Google Apps admins. Available now in the Google Apps Marketplace, DomainWatch fills a critical gap in the Google Apps ecosystem by improving the ability of IT staff to monitor, control and secure end-user access to Google Docs, Sites and Calendars.
Google has provided a tremendous foundation for security and compliance within Google Apps, but still there are opportunities to enhance end-user and organizational safety. DomainWatch meets this need by providing Google Apps admins the ability to view and search an organization's entire asset inventory, monitor sharing of assets between users, exercise behavioral control of assets, and report on usage trends. The net result is stronger protection for an organization's intellectual property.
"IT desperately needs tools that allow it to more proactively manage end-users and secure domains," said David Politis, founder and CEO of BetterCloud. "Given our background and experience with Google Apps and cloud services, we think we're uniquely capable of supporting IT in this area. DomainWatch is the first of many products we intend to offer that are built on Google App Engine and extend and enhance the value of the Google platform."
Prior to founding BetterCloud, Politis ran the Worldwide SMB business at Cloud Sherpas, Google's top partner for Google Apps. In this role, Politis led the migration of hundreds of organizations to the Google cloud. Before Cloud Sherpas, Politis was a founding employee at Vocalocity, which has grown into one of the largest cloud PBX companies in the world.
DomainWatch
DomainWatch has been in-market since Winter of 2011 and is used today by hundreds of businesses across vertical markets. Like all apps BetterCloud intends to offer, DomainWatch is designed for the full spectrum of businesses ranging from a 10-person law firm to a 50,000-employee global enterprise. DomainWatch can be used free-of-charge for seven days (install here - domainwatch.com/marketplace); pricing starts at $8 per user per year. Its main components are:

Policy Editor and Compliance Analytics: Unique to DomainWatch, Policy Editor allows admins to specify what's permitted or not permitted to be shared outside of their domain. DomainWatch monitors domains per admin created policies and flags non-compliant sharing as a violation.
Easy-to-Use Dashboard: The dashboard provides a single view of how admins share Docs, Sites and Calendars with people both outside and inside of their domain.
Asset Search, Filter, Discover: All domain assets can be searched and filtered along nine dimensions, giving admins a flexible, comprehensive view into Docs, Sites and Calendars.
Domain Trends: An automated analysis of all Docs, Sites and Calendars in a domain gives users a complete asset inventory. Multiple domain management allows admins to report and filter by the entire domain or by any sub-domain.
Security Detective: Search for users or groups with whom documents are shared. For example, it's perfect for discovering which Docs, Sites and Calendars are shared with contractors, so admins may remove access at the completion of a project.
Take Immediate Action: Remove a specific sharing mode from a Google Site, remove access to Calendars from an external user, or change ownership of a Docs collection.
"DomainWatch helps us safeguard data that is important to the hospital and its patients," said Tyler Asbury, Integration Analyst at Wyoming Medical Center, which recently migrated 1,300 workers to Google Apps. "We can monitor who is using Google Apps and how, and ensure that users are in compliance with our security and compliance policies. DomainWatch took about 10 minutes to install and we have been very pleased with its performance."
About BetterCloud
BetterCloud is one of the leading developers of integrated applications that enhance the Google Apps experience for both administrators and end-users. Our products, which can be found in the Google Apps Marketplace, make moving to and working in Google Apps easier for everyone in your organization. The BetterCloud team has been involved in the Google Apps ecosystem since its inception. Our products are installed on over 40,000 Google Apps domains and we've been developing on Google App Engine and the Google Apps platform since the first year it was open to developers. For more info visit http://www.bettercloud.com.
###