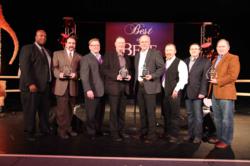 Charlotte, N.C. (PRWEB) February 10, 2012
Feb. 2 Harris Teeter's meat merchandising team was awarded the National Retail Beef Backer Award for Large Chain Retailer at the 2012 Cattle Industry Annual Convention & National Cattlemen's Beef Association (NCBA) Trade Show in Nashville, Tenn. Funded by the Beef Checkoff Program, this effort recognizes grocery establishments that are doing an outstanding job of marketing and merchandising beef in the meat case.
An independent judging committee of retail industry professionals selected Harris Teeter based on submission criteria in variety of promotional partnerships, beef merchandising and education programs.
In 2011, Harris Teeter introduced new color-coded labels and point-of-sale materials to take the mystery out of shopping the meat case. The marketing team also introduced an initiative to reconnect the consumer to the butcher, placing an over-sized "Big Red Button" in front of the meat case of every store, making it fun for shoppers to ask questions about beef. Harris Teeter was also recognized for the highest quality meat products with a commitment to superior service, value, innovation and safety.
"It is an esteemed honor to be presented with one of the beef industry's most prestigious awards four out of the last five years," said Danna Jones, communication specialist for Harris Teeter. "Our meat merchandising team's commitment to offering the best qualify products is evident in their approach to the meat case; the team continues to create innovative ways to market fresh beef products to help customers better understand the items sold in our Butchers Market."
"The majority of beef sales in the United States depend on the commitment and dedication of supermarkets of all sizes," said Margie Hande, cow-calf operator in Amidon, N.D., and chair of the checkoff's Retail Committee. "For the fifth year, we are able to say thank you to retailers that are blazing new trails in the meat case and making beef more accessible to their consumers both through checkoff-funded programs and their own innovative marketing and merchandising efforts."
Harris Teeter has won the award the last four out of five years. Vice President of Fresh and Case Meats Luke LaPerriere and Category Manager of Fresh and Case Meats Fred Printzlau were on hand to accept the award for Harris Teeter.
About the National Retail Beef Backer Awards
Started in 2006, the National Retail Beef Backer Awards program was developed to recognize the partnership between America's beef producing families and its grocery partners, and encourage other retailers to become more involved in the marketing and promotion of beef. For more information please visit BeefRetail.org.
About the Beef Checkoff
The Beef Checkoff Program was established as part of the 1985 Farm Bill. The checkoff assesses $1 per head on the sale of live domestic and imported cattle, in addition to a comparable assessment on imported beef and beef products. States retain up to 50 cents on the dollar and forward the other 50 cents per head to the Cattlemen's Beef Promotion and Research Board, which administers the national checkoff program, subject to USDA approval.
About Harris Teeter
Harris Teeter Inc. with headquarters in Matthews, N.C., is a subsidiary of Ruddick Corporation (NYSE:RDK), a Fortune 500 company. Harris Teeter is the 24th largest supermarket in the U.S. with 2011 sales of $4.29 billion. The grocery store chain employs over 24,000 associates and has 206 stores in North and South Carolina, Virginia, Georgia, Tennessee, Maryland, Delaware, Florida and the District of Columbia.
###