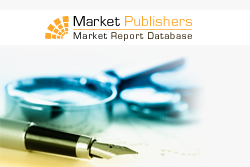 London, UK (PRWEB) February 08, 2012
What are the key issues key opinion leaders (KOLs) raise regarding their relationship with industry? How is transparency being received and how is it affecting KOL work? What changes do KOLs want to see in regards to issues like digital media and the requirements of oncologists? How KOLs see their role in trial design and post-trial feedback? Answers to all these critical questions and many more can be found in the research study.
New research study "Interacting with KOLs: Fulfilling Current Unmet Needs" prepared by FirstWord has been recently published by Market Publishers Ltd.
Report Details:
Title: Interacting with KOLs: Fulfilling Current Unmet Needs
Published: November, 2011
Pages: 41
Price: US$ 995
http://marketpublishers.com/report/medicine_pharmaceuticals_biotechnology/healthcare_equipment_services/interacting_with_kols_fulfilling_current_unmet_needs.html
The study uncovers oncology KOLs' views on the industry's digital media usage, level of disease knowledge amongst pharma personnel, CME spending and the high staff turnover rate within the industry.
Report Highlights:

opinions from 15 KOLs based at oncology centers in North America and Europe;
insight into how KOLs view transparency and how it will impact KOL-industry relationships going forward;
how KOLs expertise can be utilized in trial design and strategies;
insight into how to maximize benefits from the KOL-industry relationship in areas like continuous medical education (CME);
perspectives from KOLs on future partnerships and constructive change.
Report Contents:
Introduction
Methodology
Executive Summary
What Works Well Currently from the KOL Perspective?
What does not Work Well Currently from the KOL Perspective?
Unmet Needs in the Relationship Between KOLs and Pharmaceutical Companies
What Would KOLs Most Like to Experience from Pharmaceutical Companies Moving Forward?
What Would KOLs Definitely not Like to Experience From Pharmaceutical Companies Moving Forward?
What are the Key Success Factors for an Ideal Relationship With a Pharmaceutical Company?
Key Points of Learning to Progress the Future KOL-Industry Relationship
KOL Biographies
KOLs from the North America
KOLs from Europe
More new research studies by the publisher can be found at FirstWord page.
###