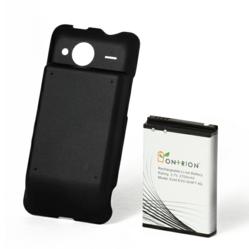 Let's Embrace Green in Life
Dallas, Texas (PRWEB) February 08, 2012
In its continuing effort to carry a replacement mobile phone battery that is compatible with all the major smartphones, OnTrion is pleased to announce that it has extended batteries for Sprint's HTC EVO 4G model in stock. All of the extended OEM-quality mobile phone batteries OnTrion manufactures have a battery cover and the original mAh (milliamperes) accurately stated on them. Users of the HTC EVO SHIFT 4G can maximize their smartphone's output with an OnTrion extended mobile phone battery.
OnTrion operates under the tagline "Engineered to Last Longer," and its extended battery line for all the major smartphone brands demonstrates just how much the company is committed to living up to that mission. The extended battery door on OnTrion's HTC EVO 4G premium batteries enables them to last two to three times longer than the average competitor's batteries. As a result, they are an ideal way for HTC EVO 4G users to get the most out of their Sprint plan.
For more information on what sets the OnTrion extended mobile phone battery for Sprint's HTC EVO SHIFT 4G apart from a generic battery, contact Jesse Khurana toll-free at (877)676-0877. To see all the smartphone-compatible extended batteries the company manufactures, visit [http://www.ontrion.com.
About OnTrion
OnTrion is a veteran manufacturer of branded mobile phone batteries, chargers, Bluetooth and other mobile accessories. The OEM-quality batteries the company produces come in both standard and extended varieties and are compatible with all the latest smartphone models. OnTrion is committed to providing its customers and distributors with the highest-quality products and services, thereby instilling 100% trust, faith and satisfaction in them. As such, innovation, ruggedness and exceptionality are the cornerstones behind every OnTrion product.
Connect with OnTrion on Facebook: http://www.facebook.com/ontrionbattery
Follow us: http://www.twitter.com/ontrionbattery
CONTACT INFORMATION:
Jesse Khurana
13650, TI Blvd., Suite #309
Dallas, TX 75243
(877)676-0877
http://www.ontrion.com
###