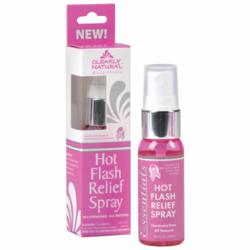 Kennesaw, Ga. (PRWEB) February 09, 2012
Today, Clearly Natural introduced their newest addition to the Clearly Natural line of products, Clearly Natural Hot Flash Relief Spray. Available online and soon to be on shelves wherever feminine hygiene products are sold, this natural spray was created to provide instant relief from the many symptoms associated with the onset of pre-menopause and menopause including hot flashes and night sweats.
"Unlike hormone replacement therapy, herbal treatments, or other types of products aimed at those who suffer from hot flashes, our spray works instantly to relieve the feelings of intense heat that can arise sometimes in a woman's body when a hot flash is triggered," said Jeff Picken, President and COO of Beaumont Products, Inc., manufacturers of the Clearly Natural brand line. "Of course, this isn't a cure for hot flashes and I am not aware of any that exist. This spray offers instant relief, without the use of drugs or hormones, during a time that otherwise can be quite uncomfortable."
When used as directed, the spray provides immediate relief from the heat and aids in cooling down the skin. The natural ingredients, which include peppermint oil, menthol, and alcohol, work together to supply a refreshing, instant and natural alternative to similar products currently available in the marketplace.
"When we first started working on this product we spoke with a number of women who had experienced hot flashes and night sweats," said Picken. "We were amazed at the amount of people who were simply looking for the easiest and quickest form of relief, and I think that we now have an opportunity to give that to them."
The Clearly Natural Hot Flash Relief Spray is offered in a 1-ounce, spray bottle and is expected to retail for $19.99. Featuring a pink ribbon on the label, a portion of the sales that are generated will go towards Breast Cancer Awareness.
About Clearly Natural:
Clearly Natural has been synonymous with high-quality, natural personal care products since the early 1970's. The Clearly Natural brand was purchased by Beaumont Products, Inc., in March 2006. Since then, the Clearly Natural line of products has grown from a single line of natural, glycerin bar soaps to include liquid hand soaps, body washes, body lotions, fluoride-free toothpaste, lip balm and hot flash relief spray. Made in Kennesaw, Ga., at Beaumont Products' manufacturing facility, the Clearly Natural line of products offers consumers a natural, eco-friendly way to care for their body. For more information visit: http://www.clearlynaturalsoaps.com.
About Beaumont Products, Inc.:
Founded in 1991 and located in Kennesaw, Ga., Beaumont Products Inc., is a leading manufacturer of premium, eco-friendly consumer products designed for air care, specialty cleaning and personal care. Promoting "Made in the USA," Beaumont Products manufacturers 11 brands sold nationwide and abroad that include: Citrus Magic, Veggie Wash], Clearly Natural, Citrus II, Farmers' Market, Trewax, Sonoma Soap Company, Dermatone, Dongé, CitruScent and Clearly Magic. For more information visit: http://www.beaumontproducts.com.
###