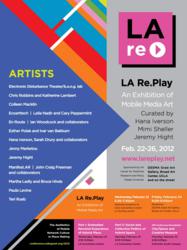 Art that integrates mobile phones, networks, and geo-located audio/visual media reveals how new 'mixed reality' experiences allow participants to explore a different sense of place
Los Angeles, CA (PRWEB) February 21, 2012
A dozen international media artists bring the dynamic field of mobile art to LA Re.Play: An Exhibition of Mobile Media Art at the DESMA Grad Art Gallery, Broad Arts Center at UCLA, and the L.A. Convention Center February 22 through 26, 2012.
The exhibition and companion lectures and events explore how smartphones, GPS, networks, location-based games, situated video and sound engage mobile technologies to transform our sense of past and present, near and far.
"Art that integrates mobile phones, networks, and geo-located audio/visual media reveals how new 'mixed reality' experiences allow participants to explore a different sense of place" says co-curator Mimi Sheller. "We are inspired to slow down, to sense and make sense of the city spaces that we move through every day."
Artists and collaboratives include the Electronic Disturbance Theater/b.a.n.g. lab, Ecoarttech, Manifest.AR and en route/Past City Future, among others. Experiences available include mobile hikes, performances, mobile augmented reality, receptions and in-gallery documentation of works that have been created around the world.
Co-curator Hana Iverson says what the artists do is take everyday technologies to explore urban landscapes and create participatory art experiences. "This is not art as 'rarified object located in an elite institution'" she says. "This is public art, accessible in the context and sequence of our everyday lives.  But it is invisible, ephemeral and magical."
The exhibition, sponsored by the Center for Mobilities Research and Policy at Drexel University and co-curated by Sheller, Iverson and Los Angeles based artist Jeremy Hight is presented at these different venues and on the street.
Events:
LA Re.Play: An Exhibition of Mobile Media Art
February 22-26, 12:00 p.m..-5:00 p.m., Exhibition: DESMA Grad Art Gallery, Broad Arts Center at UCLA
Lectures: The Aesthetics of Mobile Network Culture in Place Making
Part 1: Embodied Personal Experience of Hybrid Place, Wednesday, February 22, 2:30-5:00 p.m., L.A. Convention Center
Part 2: Social and Collective Politics of Hybrid Space, Saturday, February 25, 9:30 a.m.-12:00 p.m., L.A. Convention Center
Off-Conference Roundtable: City/Space and Creative Measure, Thursday, February 23, 6:30-8:30 p.m., ArtCenter South Campus, UCLA
Indeterminate Hikes+:
February 22, 7:30 p.m., leaving from the LA Re.Play exhibit booth at the L.A. Convention Center
February 24, 8:00 p.m., leaving from the DESMA Grad Art Gallery, Broad Arts Center at UCLA
Receptions:
February 22, 5:30-7:30 p.m., CAA L.A.Convention Center Gallery, LA Re.Play exhibit booth
February 24, 6:00-8:00 p.m., DESMA, Grad Art Gallery, Broad Arts Center, UCLA
About Sheller and Iverson
Dr. Mimi Sheller. is Professor of Sociology and Director of the Mobilities Research and Policy Center at Drexel University in Philadelphia, Pennsylvania. She also holds a continuing appointment as Senior Research Fellow in the Centre for Mobilities Research at Lancaster University (UK) and is founding co-editor of the international journal Mobilities. As one of the world's leading experts in inter-disciplinary mobilities research, Sheller was one of twelve international experts invited to the World Bank Headquarters in Tokyo last month to examine the lessons learned in the aftermath of the earthquake and tsunami that devastated the country in March. Her current areas of research include "Sustainable Mobility and Mobility Justice," new cultures and infrastructures of travel, transport, mobile communication, and urbanism.
Hana Iverson is a media artist with a conceptual grounding in photography and portable/wearable media, with a focus on networked communities and wireless technologies. 
She is the the founder and Director of the Neighborhood Narratives Project, an international, community-based learning environment where students investigate the complex ways cell phones, GPS, mobile recording devices, interactive public installation and social network games affect their knowledge of and relation to lived space. Iverson is the Visiting Scholar with the Institute for Woman and Art at Rutgers University, New Brunswick, NJ and a Senior Fellow with the Center for Creative Research, a research unit in the Graduate School of the Humanities at NYU. Iverson holds an MPS from the Interactive Telecommunications Program, Tisch School of Arts, New York University.
# # #