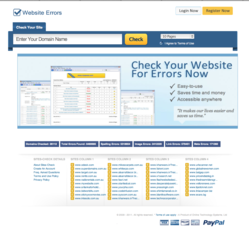 An online entrepreneur says that poor spelling is costing the UK millions of pounds in lost revenue for internet businesses.
London, England (PRWEB) February 10, 2012
Online Technology Systems found figures from the Office for National Statistics published last month that showed internet sales in the UK running at £527m per week.
This prompted Online Technology Solutions (OTS) to conduct its own study that revealed that a single spelling mistake can cut online sales in half, In fact the sales figures suggest misspellings put off consumers who could have concerns about a website's credibility,
Spelling is important to the credibility of a website, When there are underlying concerns about fraud and safety, then getting the basics right is essential.
These figures have motivated OTS to launch a brand new service that will instantly checks websites for spelling errors. Through the new website http://www.website-errors.com users can simply enter a domain and the site will go to work, checking each static page for spelling errors and potentially saving the business thousands of dollars in lost sales.
OTS has also taken it a step further by also checking for flaws in the actual websites design that will prohibit Google from spidering all available content and this directly impacting the ability for customers to find the website online.
There was much excitement around the OTS offices in regards to launching the instant online spellcheck when suddenly the company directors revealed the additional feature that had been developed in secret and in conduction with the spellcheck service.
In the first week of launching, this new service has already checked over 20,000 websites and delivered the report for businesses to make the necessary changes in order to receive more sales and more exposure through the online search engines like Google.
For more information or to try this service please visit http://www.website-errors.com
###