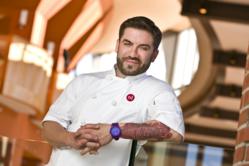 Newark, NJ (PRWEB) February 08, 2012
Replacing the former Theater Square Grill, NICO will present food that is as fresh, inspired, and well executed as the artistry that graces the NJPAC stages.
The NICO Kitchen + Bar concept -- contemporary, high energy, and market-driven -- comes from renowned Chef Ryan DePersio of Fascino and Bar Cara fame (Montclair/Bloomfield, NJ).
He is unveiling an appealing, on-trend, small plates dinner menu and a focused, eclectic lunch menu (think tapas with Contemporary American and Italian leanings).
NICO will also offer a sophisticated, enjoyable Happy Hour with crafted cocktails and specially priced "bites."
A value-priced, three-course, more traditional prix-fixe menu will also be offered on performance nights and matinees, designed to come out of the kitchen quickly so guests can make their curtain ~ if they arrive at least 90 minutes prior to the start of a performance.
With Chef de Cuisine Adam Rose in the kitchen, and business partner (and brother) Anthony DePersio consulting on service, Chef DePersio will deliver a dining experience at NICO Kitchen + Bar akin to his other acclaimed restaurants. Incidentally, "NICO" is a nickname for his 6 year-old son, Nicholas!
Highlights from Chef DePersio's soulful new menus include new plates as well as Fascino and Bar Cara favorites:
Pomegranate-Chili Wings w/Gorgonzola Dipping Sauce;
Trio of Tartares (Scottish Salmon, Truffled Beef, Yellowfin Tuna);
Lobster Mac 'n' Cheese;
Mache Salad with Beet Pinwheel & Goat Cheese "Snow;"
Mascarpone Polenta Fries; Grilled Soy-Paprika Lamb Chops w/Eggplant Purée;
and Olive-Crusted King Salmon w/Roasted Jumbo Asparagus
... not to mention the best Cheeseburger in town!
(Filet Mignon, NY Cheddar, Grilled Red Onion)
Desserts include:
Rum Raisin Bread Pudding w/Caramel Pecan Gelato and Praline Dusted Ricotta Cheesecake.
Guests will savor 21 wines by the glass, original seasonal and classic cocktails, and artisanal beers.
In keeping with the spectacular theatrics of the NJPAC space, handsome new design updates are planned for NICO Kitchen + Bar. They include new booth seating and a community table for 12, dramatic pendulum lamps, and theatrical panels on pulleys that create intimate (or grand) dining spaces. The private dining rooms at NICO will accommodate events both business and social for up to 240 guests.
NICO will serve lunch Monday through Friday and dinner nightly except Sunday.
NICO KITCHEN + BAR @ NJPAC
1 Center Street
Newark, NJ 07102
For reservations: 973.642.1226 or
http://www.nicokitchenbar.com
###