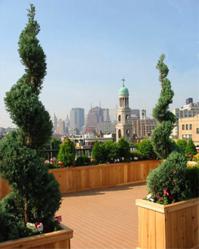 The first great thing about Amber is that she listens. The next fantastic thing about Amber is that she is that rare combination of artist and great business person. - Pamela K., Park Ave. Roof Garden
(PRWEB) February 09, 2012
"Everything is blooming most recklessly; if it were voices instead of colors, there would be an unbelievable shrieking into the heart of the night." ~Rainer Maria Rilke, Letters of Rainer Maria Rilke
Spring is just around the corner, and many New Yorkers are starting to turn their attention to their neglected yards, terraces, or rooftop spaces and beginning to make plans for spring gardens. To many people living in a city like New York, creating a garden is their primary means for creating a sanctuary away from the urban hustle and bustle that they have to deal with during the rest of the day. Amber Freda Home & Garden Design seeks to help city dwellers on their way to developing an outdoor oasis with a few seasonal tips from our years of experience creating beautiful urban paradises on rooftops, terraces, and backyards in the NYC area.
Having an outdoor space is really like having additional rooms in your apartment. Space is a valuable commodity, so adding outdoor rooms for sitting, eating, relaxing, and entertaining is not only aesthetically pleasing, but a smart investment as well. A well-designed garden is built to engage the senses and transport visitors to a place of peace and beauty. In a land of concrete and steel, these gardens are some of the most treasured green spaces on the planet.
The Four Season Garden is of particular interest to me because I believe the garden is a place for beauty and enjoyment in every season. Spring is a celebration of new growth and blooms, summer is a season of ripening vines and lush tropical plants, fall is the season for graceful grasses and the rich hues of leaves turning colors, and winter is a season of evergreens, berries, and the beauty of tree bark such as the brown and white exfoliating bark of the birch tree. Every season is ripe with beauty if we just know how to encourage it.
Urban gardening comes with its own unique set of challenges. Roof gardens have to deal with extremes in temperature and high winds that can quickly shred large-leaf plants not suitable to life atop a mountain-like rooftop. Most roof gardens are in somewhat remote locations, where you can sometimes work for an entire day on a garden without seeing another living soul, even though on the street below thousands of people may have walked by without a clue that a beautiful garden paradise exists several floors up. Roof gardens are like little secret jewels hidden out of reach in the clouds, nestled between skyscrapers and birds.
If planting a roof garden seems daunting, here are a few tips to help get you on your way to creating an urban paradise:
CHECK BUILDING CODES
Before starting a garden, check with the building superintendent to see about building codes and weight limits for rooftops and terraces.
USE APPROPRIATE CONTAINERS
Containers should be lightweight and portable, resist cracking in freezing weather, and hold enough soil to minimize the drying effects of wind and sun.
INSTALL AN IRRIGATION SYSTEM
In the heat of summer, plants exposed to a full day of sun and wind may need constant watering and can easily burn to a crisp if forgotten about for even a day.
KNOW YOUR CONDITIONS
The intense sun, wind, and freezing temperatures on a rooftop or terrace can be a full zone or two different than that on the street down below. A temperature gauge can help to determine whether or not you're gardening in the arctic or the Sahara.
CHOOSE THE RIGHT PLANTS
Buy smaller-leaved plants that won't get torn apart by the wind. Plants should also be able to tolerate a wide range of temperature extremes. Conical-shaped trees tend to do better and won't get blown over by wind.
DESIGN FOR SEASONAL INTEREST
If you can see the garden from indoors, it's a good idea to mix evergreens with annuals and perennials in the same planters so you will have colorful blooms in warmer months and something green to look at when the weather turns frosty.
PROTECT PLANTS FROM THE ELEMENTS
Stabilize evaporation rates and freeze-thaw cycles by applying a 2-3" layer of mulch to your containers.
SPRING CLEANING ESSENTIALS
Over time, the soil in your containers will start to decompose and lose its nutritional value. Remove the top 1-2" of soil from containers each spring and add fresh soil to reinvigorate plants.
FERTILIZE, FERTILIZE, FERTILIZE
Plants in containers eat up fertilizer much more quickly than plants in the ground. During periods of active growth, you should plan on fertilizing every two weeks for blooming and fruiting plants and once a month for all others.
PRUNE AND DIVIDE
Very large plants will need to be pruned or divided every year to keep them from outgrowing their containers. Prune spring-flowering plants after they bloom. Prune all others after the first frost.
ABOUT THE AUTHOR
Amber Freda Home & Garden Design offers interior and exterior design that includes a complete range of services from inception of the project to installation. We believe that a connection should exist between the interior and exterior environment, and we strive to create a sense of rhythm and flow that is as seamless as it is beautiful.
Amber looks at the flow of energy and movement within a space, helping to develop and direct latent potential into a force for drama and beauty. We were voted "Best in New York" by Shecky's Guides to New York, and Amber has been interviewed as a guest expert by the CBS News Morning Show. She has also been featured in articles that ran in the New York Post, Associated Press, Daily Candy, and Gardening How-To. Amber has taught more than a dozen classes in urban design at both The New York and Brooklyn botanical gardens. She started her firm, Amber Freda Home & Garden Design, in 2004.
TESTIMONIALS
"I highly recommend Amber Freda. The first great thing about Amber is that she listens. The next fantastic thing about Amber is that she is that rare combination of artist and great business person. She is pleasant to deal with and always on time. She keeps careful records and is reliable and trustworthy. One less worry because Amber is really on top of things. My terrace is gorgeous. I don't know how she does it all so well, but she does!" - Pamela K., Park Avenue
"We have worked with Amber on several projects and have been extremely impressed with her work, both her style and professionalism. She and her team are terrific and a great pleasure to work with." - Judy D., Soho
"I just wanted to say I ABSOLUTELY LOVE EVERYTHING YOU'VE DONE!!! I thought about how the garden would look before it was installed, but I never imagined how delighted I would also be with how it smelled and the peaceful sound of the leaves moving in the breeze. Thank you!" - Arabella G., 53rd Street
###