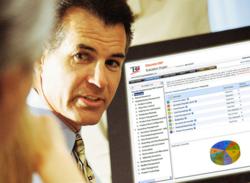 "With our consulting partner programs developing worldwide, we'll be able to offer local representation for our services to companies around the globe." - Lorne Goloff, VP Selection Services, TEC
Montreal, Canada (PRWEB) February 10, 2012
Montreal technology company, Technology Evaluation Centers(TEC) has recently partnered with firm, EON Consulting, to bring their technology assessment and software selection services to a new market in South Africa.
TEC's partner programs offer consulting firms the opportunity to utilize TEC's extensive research, industry-leading decision support technology - TEC Advisor, selection methodology, and expertise to win new business while also providing improved services to existing clients. EON initially expressed interest in TEC for the purpose of streamlining and automating their client's evaluation projects and found the partnership program to match their ultimate goals.
Eon Founding Partner, Wim Terblanche, stated about the relationship, "We are very excited about this new partnership with TEC. Their impressive technology and software evaluation and selection methodology will really help to streamline the projects we have and add a great deal of value for the clients we serve." Eon Consulting, delivers professional business consulting to help clients maximize their performance and strengthen their overall organization. Since founding in 1998, Eon has built a strong track record and reputation in the utilities, telecoms and information technology systems industries, as well as across the South African business landscape in program and project management.
TEC, a world leader in software advisory services has formed strategic partnerships with consulting firms in different regions to deliver the company's technology and services around the world with the advantage of having a local consultant to provide optimal service. Technology Evaluation Center's global partnerships currently include consulting partnerships across Western Europe, North America, and Australasia.
Lorne Goloff, VP Selection Services at TEC remarked, "This partnership with EON is very special for TEC as it is the first in South Africa. With our consulting partner programs developing worldwide, we'll be able to offer local representation for our best in class technology assessment and software selection services to companies around the globe."
To learn more about EON Consulting services in South Africa, visit http://www.eonconsulting.co.za.
For more information about Technology Evaluation Center's partnership programs, visit TEC Consulting Partnerships.
About Technology Evaluation Centers
TEC helps organizations choose the best enterprise software solutions for their unique business needs – quickly, impartially, and cost-effectively. TEC's online Evaluation Centers, containing IT research and extensive knowledge bases, are the leading resource for IT decision makers around the world. By combining that information with a proven methodology, unique Web-based software selection platforms, and years of software selection expertise, TEC delivers an unmatched range of online software evaluation and selection services that bridge the gap between enterprise decision makers and the vendor/ value-added reseller (VAR) community.
###