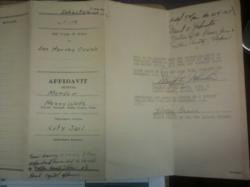 Dallas, Texas (PRWEB) February 09, 2012
Last week in Dallas, Texas, Great Estate Roadshow purchased the original arrest papers for Lee Harvey Oswald. Great Estate Roadshow is the largest purchaser of gold, silver, antiques, and collectible items in the United States. Great Estate Roadshow is now in Fort Worth from Monday, February 13th to Saturday, February 18th, seeking to find a similar unusual item to add to their purchases.
In addition to acquiring the arrest papers of Lee Harvey Oswald, Great Estate Roadshow also acquired a 13-carat diamond rewarding the owner with $600,000. Each week, in every city that Great Estate Roadshow has events, typical purchases include the discovery of rare coins such as a three-legged buffalo coin, coin collections, silverware, and old swords.
Additionally, in each city—small or large—a person comes in with an item that he or she believes is not worth much; however, because of Great Estate Roadshow's extensive list of collectors throughout the country, the item is worth much more. The customer leaves happy with more money than expected.
###