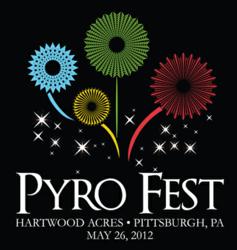 Fireworks are the International symbol of "Celebration and what better way to commemorate the Memorial Day Weekend than a day of unique and innovative pyrotechnics and fireworks entertainment," says Stephen Vitale, President & CEO at Pyrotecnico
New Castle, PA (PRWEB) February 08, 2012
Pyrotecnico is pleased to announce PyroFest, their 1st annual pyrotechnics and fireworks festival, taking place May 26, 2012 at Hartwood Acres in Pittsburgh, PA in partnership with Allegheny County Parks Department.
Using the best techniques and products from around the globe, Pyrofest will feature all day, never before seen pyrotechnics and firework displays while honoring the brave men and women of the US Military.
"Fireworks are the International symbol of Celebration and what better way to commemorate the Memorial Day Weekend than a day of unique and innovative pyrotechnics and fireworks entertainment," says Stephen Vitale, President & CEO at Pyrotecnico.
PyroFest displays will include:

US Military Salute & National Anthem Display
Daytime & Colored Smoke Fireworks
300 Foot Pyro Sun
Pyro UFO Launch
Rock Loves (based off of the Award Winning fireworks show "Rock Loves")
In addition to this best of class pyro-packed lineup, Pyrofest will also include live music, food, and a kids zone, in this can't miss, cutting-edge community event.
Further information and entertainment announcements can be found on the official website: http://www.pyrofest.com
Like our Facebook page to stay up to date: https://www.facebook.com/pages/PyroFest-by-Pyrotecnico/222800131104009
Follow us on Twitter (@pyrofest) here: http://twitter.com/pyrofest
About Pyrotecnico
Pyrotecnico is America's most creative fireworks display, pyrotechnics and special effects company. Pyrotecnico currently has full service design and sales offices in New Castle, PA; Dallas, TX; New Orleans, LA; Las Vegas, NV; Montgomery, AL; Vineland, NJ; Ft. Lauderdale, FL; Tampa, FL; Atlanta, GA; Jaffrey, NH; Auburn, NY; Columbia, SC. This increasingly flexible network is available to clients every day of the year, and can plan, develop and execute any size show, in any venue using any combination of pyrotechnical products. Learn more about Pyrotecnico at http://www.pyrotecnico.com. For more information, contact Derek Weber at (800) 854-4705 or dweber(at)pyrotecnico(dot)com
###