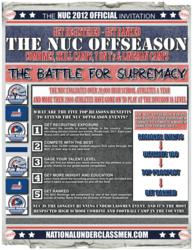 20% of our athletes have gone on to receive scholarships and over 50% have gone on to play college football.
(PRWEB) February 08, 2012
Dave Schuman, founder of the Schuman's National Underclassmen Combines, the largest high school football combine and college football recruiting showcase in the country, today announced its expansion into new cities and more national locations for combine camps. The football combines will run from February 5thth through June 12th, with stops in every major city in the U.S., including hot spots such as New York City, Miami, Los Angeles, Dallas, Houston, Phoenix, Chicago, San Diego, Nashville, Atlanta, and Orlando. Featuring the top high school football talent from around the country, attendees will be evaluated by the scouting service, Rivals.com and their results will be provided to college football recruiting scouts, including every college in the U.S. from D-1a BCS to DIII.
With 88 National Football Combines dates in 2012, 15 Ultimate 100 camps, one Top Prospect Camp, 8 Regional NUC Five Star Elite Camps a list of unparalleled partners and sponsors, and unprecedented 2000% growth since its inception, NUC is the ultimate in High School Athletics recruitment showcase. In 2011, more than 24,000 athletes from grades 8 through 11 participated. Over the past six years, the NUC has facilitated more than 3,000 athletes with scholarship offers and given thousands more the opportunity to go on to play college football. The company is excited to expand its football brand and looks forward to continued success in helping to develop the nation's football talent and take their skills to the college level. With its extensive website, http://www.nationalunderclassmen.com, athletes can find out information and register for events.
"At the NUC, our goal has been to help high school football athletes -- in particular Freshman and Sophomores, but we have expanded to Juniors and 7th graders to help them gain early exposure to colleges to showcase their skills," stated NUC founder Dave Schuman. "20% of our athletes have gone on to receive scholarships and over 50% have gone on to play college football. As demand for our services has increased over the past six years, we have recognized the need to expand our showcases to include more cities, more athletes and more grade levels. Our goal is to provide opportunities for athletes to gain early college football recruiting exposure in every town in the U.S. We want to be the place where every college looks to find players, whether they are from New Mexico, New York City, Portland, Oregon or Miami, Florida. We're excited to see what the future holds for our athletes and our partners."
The combine camp will be run by David Schuman and his staff, and will also include high school football coaches that will help time and encourage athletes do their best in the combine. Schuman's has trained, coached and worked with more than 85,000 athletes nationwide and is widely recognized as the authority on speed, football and athletic development.
About National Underclassmen Combines
The National Underclassmen Showcase for Football was founded by the originators of the National Underclassmen Football Combines. Over the past five years, the NUC has led more than 3,000 athletes to division 1, 1aa, and DII scholarships scholarship offers while thousands more have gone on to play college ball. The company has taken the principle of the football showcase and is now applying it to lacrosse, bringing in the best football coaches and athletes to run the showcase, combined with the NUC's timing staff to bring the first true testing and showcase for Lax with the sole aim to get the athletes recruited for college. All events are video taped and the results will be sent to every college in the U.S. To see what NUC's done in the past, visit http://www.nationalunderclassmen.com. The company is proud to expand its program to more than 60 cities and more than 180 events throughout the U.S. Many top players have come through the National Underclassmen Combine including Baltimore Ravens QB Tyrod Taylor and Cleveland Browns DB Joe Haden. Many current top stars in college first came through the NUC including Marcus Lattimore of South Carolina, Robert Woods of USC, Aaron Murray of Georgia, Tyler Bray of Tennessee, Jelani Jenkins of Florida, Mason Walters and Dom Espinosa of Texas and many many more.
For high school football athletes who are diamonds in the rough or who play for small schools, or elite athletes looking to be seen as early as possible, Schuman's provides a forum and showcase for those athletes to expose their talents. It is their job to get that information out to college football recruiting teams nationwide. Visit http://www.nationalunderclassmen.com to find out more information.
Press Contact:
David Schuman
201-912-2212
dschuman(at)schumanspeed(dot)com
###