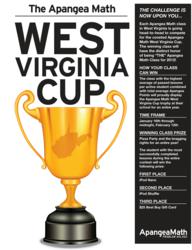 The way it's structured, it's just so engaging that it's inviting to them (students) to keep on working.
Pittsburgh, PA (PRWEB) February 09, 2012
For more than five years, the state of West Virginia has been implementing Apangea Math, a Web-based adaptive math solution supporting grades 3 through Algebra 1. Currently, Apangea provides over 13,000 students access to Apangea Math. The Math Cup contest signifies the impact Apangea Math has on students—by motivating them to engage with math and by helping them conquer math anxieties often encountered in the classroom. By improving problem-solving skills, Apangea Math helps build students' self-confidence.
Each Apangea Math class in West Virginia is competing head-to-head for the coveted Apangea Math West Virginia Cup. The winning class will have the distinction of being "THE" Apangea Math Class for 2012! The winning class will receive a pizza party and the bragging rights for the next year. In addition, the student successfully completing the most lessons overall will receive an iPod nano. The contest started on January 16 and will run until midnight of February 12, 2012.
In West Virginia, recent success with Apangea Math came out of Kanawha County schools. With only nine weeks of implementation behind them, participating students demonstrated high learning gains and greater excitement about math. As a result, Kanawha County achieved a 38% increase in the number of students testing proficient in math, with an average positive score rate of 75%. Students began working with Apangea Math in late January 2011, and continued through April. Teachers also encouraged students in 59 classrooms to go online at home, and to attend the learning lab before the school day began, to take advantage of the programs Web-based "anytime, anywhere" access. This feature is another catalyst that has sparked the inaugural Math Cup contest.
The recent success in West Virginia has led Math Curriculum Specialist Crystal Godbey to state, "This (Apangea Math) has probably been the best overall program." While later discussing a reason why Apangea Math works, Crystal responded, "The way it's structured, it's just so engaging that it's inviting to them (students) to keep on working." Highlighting how effective Apangea Math is in their specific setting, advocates, like Crystal, who use the solution daily, create the success the state of West Virginia has witnessed.
Winning the Math Cup is based on a combined score of the highest class averages of lessons passed and points earned. Apangea Math provides students with the excitement they need to learn more about math, and with the tools they need to learn and practice their math skills. For more details about the Math Cup, please visit our Facebook page at http://www.facebook.com/Apangea or visit the company Web site at http://www.apangea.com.
About Apangea Learning
Apangea Learning (http://www.apangealearning.com) provides one-student-to-one-teacher differentiated instruction, through an integration of tutoring technology and live, online, certified teachers. With programs based on one of the world's largest bodies of cognitive research, conducted by the U.S. Air Force, Apangea has both strong technical resources and a content-development prowess that enables it to harness advanced Web technologies and offer innovative instruction techniques. The privately owned company is based in Pittsburgh, PA.
###