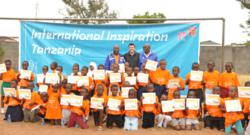 There are many examples from the International Inspiration programme of how sport, and physical activity, can be the way for young people to build bridges with the communities where they live and beyond
(PRWEB) February 08, 2012
London 2012 Organising Committee (LOCOG) Chair Seb Coe has witnessed first-hand the benefits of the International Inspiration programme during a trip to Tanzania.
Based on the vision to reach young people all around the world, the international sports legacy programme has now reached more than 12 million young people in 20 countries. It is connecting them to the power of the Games and inspiring them to choose sport.
During his visit to Tanzania, Coe visited the Kibafila Secondary School and joined students for a series of sports displays.
'Important benefits'
Coe said that the commitment to the International Inspiration programme shown by Africa's National Olympic and Paralympic Committees, schools, governments and partners helped to demonstrate the important benefits of sport in local communities and in children's lives.
'International Inspiration goes to the heart of the London 2012 Games, and our determination to use the Games as a catalyst for change in people's lives as well in communities, as we promised in our bid. There are many examples from the International Inspiration programme of how sport, and physical activity, can be the way for young people to build bridges with the communities where they live and beyond.'
'Like many around the world, it would also be a dream for me to see the Games staged on this continent and once the London 2012 Games are over, I will do what I can to help in efforts to bring the Games to Africa'.
Coe also met with Tanzanian Olympic officials, athletes and sports leaders and discussed preparations for the London 2012 Games, which he said were on time and centred on providing the optimum conditions for the athletes to perform at their best.
With the addition to the programme of Egypt earlier this month, a total of nine countries in Africa are involved with the International Inspiration programmes, more than any other continent.
Find out more about International Inspiration
For further information please contact the London 2012 Press Office.
###