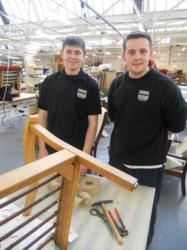 We are not just celebrating what we have achieved, but looking forward to what we can achieve for the future.
(PRWEB UK) 9 February 2012
The long-established loose covers and reupholstery specialists are no strangers to the Guild. Held every 20 years to showcase the city's excellence in trade and commerce, Plumbs have often joined the celebrations, flying the flag for local skilled craftsmanship.
In 2012, the Guild focus shifts toward the future of business in the city. Eager to help strengthen the future of Preston's manufacturing industry, Plumbs have joined forces with the Guild Committee in offering apprenticeship schemes to local young people.
Apprenticeship Organiser for Plumbs, Rachel Page says: 'It is essential for us to continue to develop young people with manufacturing skills and invest in the future of our businesses.' She continues 'We currently have 2 apprentices and are looking to recruit more in 2012.'
The 50-year old company are keen to get many other local businesses involved in the scheme. Plumbs are collaborating with the Guild and North Lancashire Training Group, another proud supporter of the scheme, in an effort to raise awareness within the Preston business community. They will be holding events to inform local businesses about the benefits of the scheme, and encouraging them to take on an apprentice during the Guild Year.
The Apprenticeship Scheme aims to help train and mould new employees, increasing staff motivation and productivity. As an apprentice with one of Preston's local businesses, young people will gain the practical and academic skills needed to succeed in the world of work. Stephen Barker, 17, a former pupil at Carr Hill High School in Kirkham talks about his current experience as a Plumbs upholstery apprentice, 'I'm getting new skills every day, all the time I am learning something new which does not just help me at work, it gives me a skill for life as well.'
Throughout the year Plumbs, and the Guild Committee, hope to see 20 young people get apprenticeships with 20 Preston businesses. Rachel Page comments on her excitement for the project: 'This year we're not just celebrating what we have achieved, but looking forward to what we can achieve for the future. The apprentices of 2012 could be the Guild organisers of 2032!"
Plumbs will also be joining the traditional Guild Procession later in September. In true Guild tradition, they have not divulged their plans for the event.
About Plumbs:
Plumbs have around 150 Home Consultants who will visit homes free of charge. The Home Consultants can recommend an appropriate loose covers solution and advise on room colour co-ordination and any other home furnishings such as upholstery, lose covers for sofas, cushion covers and curtains.
Plumbs have over 350 different upholstery fabric designs and colours to choose from, and a range of materials to suit any piece of furniture.
For further information please contact: Hannah Jones on 01772 838 301 or email hjones(at)plumbs(dot)co(dot)uk
###