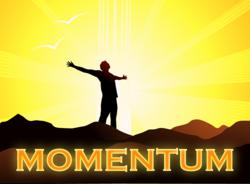 The Momentum program will offer a beacon of light to Christian ministries looking for new resources and creative strategies that will not only sustain them, but help them grow in any economic environment.
(PRWEB) February 16, 2012
Building God's Way announced today that it has launched a new program focused on providing creative strategies for church growth and church fundraising. The new program, known as Momentum, is offered through BGW's Forward in Faith division and was designed to help churches sustain their ministries and gain vitality in light of the current economic situation and shifting age demographic.
The new Momentum program will specifically coach and train church leaders to create the momentum necessary to allow their ministries to effectively raise funds, retire debt, clarify vision, expand outreach, develop passion, inspire volunteers, embrace opportunities, and reach the God-given vision of their ministry. The Momentum program is available to Christian churches nationwide, large or small, traditional or contemporary, regardless of denomination or location.
At 83 million strong, the Millennial generation represents the largest generation in American history Baby Boomers, the largest source of funding in churches today, are now retiring at the rate of 10,000 a day. This changing demographic creates a huge challenge for Christian churches, who are seeking ways to sustain funding for ministries. As this transfer of wealth and control shifts from Baby Boomers to Millennials, the Momentum program will offer a beacon of light to Christian ministries looking for new resources and creative strategies that will not only sustain them, but help them grow in any economic environment.
Building God's Way (BGW) has established partnerships with a number of key organizations over the years, including Forward in Faith, which offers churches a radically unique approach to capital fundraising. BGW clients around the country have reaped the benefits of this successful partnership and integrated fundraising solution called "Hearing from God", which is a fresh alternative to the typical high-pressure techniques prevalent in capital fundraising campaigns today. For more information on BGW | Forward in Faith, visit the web site.
BGW Forward in Faith and the Momentum program are headed by Pastor and author Terry Bates and Pastor Michael Goldsmith. Pastor Bates has personally lead three ministries to incredible turnaround growth and teaches and trains pastors across the country following the strategic plan laid out in his book, "Positioning Your Church". Pastor Bates partnered with John Maxwell on the Million Leader Mandate and was involved in training over 250,000 church leaders in Asia and Africa. He is currently senior Pastor at OKC Faith Church in Oklahoma City, OK. He is the host of the weekly television and radio ministry "Discover Faith" and is a regular host on Trinity Broadcasting Network and guest on Daystar Television Network.
Michael Goldsmith was Senior Pastor of The Assembly in Broken Arrow, Oklahoma from 1998-2008. Under his leadership, the church grew from 500 to more than 1,500 in weekly attendance. Like Terry Bates, Goldsmith was a trainer for John Maxwell's Million Leaders Mandate in the Philippines and also serves on the Generation Next Advisory Team of the Global Pastors Network. He is also published author, writing chapters in Living Like Jesus, and Trusting God, both Onward Books publications and is a guest columnist for the Daily Oklahoman's "Keeping the Faith" column and the Broken Arrow Daily Ledger. He also hosts the live "Praise the Lord" program monthly for Trinity Broadcasting Network.
About Building God's Way - With a portfolio of nearly 400 churches and 120 Christian schools and colleges nationwide, Building God's Way (BGW) has become a recognized leader in ministry design and construction. BGW has also developed an unparalleled network of kingdom building services that extend beyond just architecture and building and includes engineering, growth coaching, vision casting, capital fundraising, financing, leadership development, audio / video / lighting / broadcast technology and more. The mission of Building God's Way is to build God's Kingdom by translating the God-given ministry vision of Christian organizations through high-quality, cost-effective buildings and by demonstrating the love of Christ on the job site through the BGW Ministry of Construction program.
###