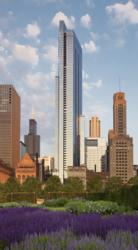 Today's buyers will enjoy a building that is financially rock-solid and has a balanced inventory of homes priced to the market.
Chicago, IL (PRWEB) February 13, 2012
Mesa Development LLC and Walsh Investors have paid off the $275.5 million construction loan for The Legacy at Millennium Park, a luxury 72-story condominium high-rise located at 60 East Monroe Street, overlooking Millennium Park in downtown Chicago. The loan was repaid with proceeds from unit closings as well as a new $60.6 million loan provided by U.S. Bank and The Private Bank.
Additionally, the Mesa/Walsh partnership has hired Chicago-based residential brokerage firm @properties to manage sales and marketing for the building, where more than half of the 356 condominiums have been sold to date.
Currently, the Legacy offers one-, two- and three-bedroom floor plans as well as a handful of penthouse residences ranging from 875 to 9,301 square feet. Prices range from the high-$300,000s to $6 million.
"We have successfully positioned the Legacy to take advantage of the recovery in the downtown luxury condo market, which began to take hold last year. Today's buyers will enjoy a building that is financially rock-solid and has a balanced inventory of homes priced to the market," said Richard A. Hanson, principal and founder of Mesa Development LLC.
The new loan is believed to be the largest –and one of the only – refinancings of a condominium construction loan in downtown Chicago since the credit pipeline for condominium developments shut off in 2008.
"Relationships are the cornerstone of The PrivateBank business model and it is our long and valued relationship with these clients, that brought us to this project," said Larry D. Richman, President and Chief Operating Officer, PrivateBancorp, Inc., parent to The PrivateBank. "We are pleased to support clients and projects that ensure the ongoing vibrancy of our great city."
"U.S. Bank is proud to be part of what has been and will continue to be a great project for Chicago," said Don Pafford, Chicago Market Manager for U.S. Bank Commercial Real Estate. "Chicago continues to be an important market for our bank, and The Legacy at Millennium Park is representative of our commitment."
Meanwhile, the addition of @properties to the project will give The Legacy at Millennium Park greater exposure among real estate brokers and homebuyers both in the city and on the North Shore, according to Gregory Ciambrone, vice president of Walsh Investors.
"We're at a stage of the project, with homes ready to deliver, where getting in front of brokers is important to the completion of our sales program. @properties has the leading market share in the city and a strong presence on the North Shore, so we're counting on them to bring us buyers," Ciambrone said.
"Value drives the market today – even the luxury market. We feel very confident that luxury buyers are going to respond to the value and opportunity presented by the Legacy," said Michael Golden, co-founder of @properties. "It's the complete package – an incredible building, lifestyle and location."
Designed by Chicago-based Solomon Cordwell Buenz, The Legacy at Millennium Park has received widespread acclaim for its contemporary architecture and upscale amenities. It was a finalist for the 2010 Emporis International Skyscraper Award and was named the Best New Residential Building of 2011 by Friends of Downtown. The tall, slender tower is shrouded in floor-to-ceiling glass and offers unobstructed views of Millennium Park, Grant Park and Lake Michigan from most units. It also offers an assortment of luxury amenities including an indoor pool and spa, fitness center, two community rooms, sky gardens, 24-hour doorman and on-site concierge.
One unique amenity is a connection to the adjacent University Club of Chicago. A sky-bridge on The Legacy's 13th floor allows building residents who are club members to directly access the club through its fitness area and squash courts. All Legacy at Millennium Park residents have access to a number of club services, including hotel rooms for visiting guests. The University Club is an independent private-membership club with admission governed by its own policies and bylaws.
The Legacy at Millennium Park sales center is located in the building, at 60 E. Monroe. Hours are 12 p.m. to 5 p.m. daily. For more information, call (312) 252-0060 and visit http://www.TheLegacyAtMillenniumPark.com.
About Mesa Development LLC
Mesa Development is a Chicago-based, national real estate investment and development firm with a long track record of success in completing urban, mixed-use residential projects. In addition to The Legacy, Mesa and Walsh Investors successfully completed the Heritage at Millennium Park luxury condominium project in Chicago in 2005. For more information, visit http://www.mesadevelopmentllc.com.
About Walsh Investors
Walsh Investors, LLC is the investment arm of the Walsh family, owners of The Walsh Group. The Walsh Group, headquartered in Chicago, is one of North America's largest general contracting, construction management and design-build firm. Walsh Investors, through direct investment and various partnerships and joint ventures, has developed or invested in office, industrial and residential developments throughout the United States and Canada.
About @properties
Established in 2000, @properties is the No. 1 residential brokerage firm in the city of Chicago by market share and the third largest brokerage firm in Northern Illinois. @properties is also Chicago's leading firm for the sales and marketing of condominium developments and conversions. The company has offices in River North, Streeterville, Lincoln Park, Bucktown, Lakeview, Evanston, Winnetka and Lake Forest, and is opening in Highland Park in early 2012. For more information, visit http://www.atproperties.com.
About U.S. Bank
U.S. Bancorp, with $340 billion in assets as of Dec. 31, 2011, is the parent company of U.S. Bank, the fifth-largest commercial bank in the United States. The company operates 3,085 banking offices in 25 states and 5,053 ATMs, and provides a comprehensive line of banking, brokerage, insurance, investment, mortgage, trust and payment services products to consumers, businesses and institutions. U.S. Bancorp and its employees are dedicated to improving the communities they serve, for which the company earned the 2011 Spirit of America Award, the highest honor bestowed on a company by United Way. Visit U.S. Bancorp on the web at http://www.usbank.com.
About The PrivateBank
The PrivateBank is a part of PrivateBancorp, Inc., which, through its subsidiaries, delivers customized business and personal financial services to middle-market companies, business owners, executives, entrepreneurs and families in all of the markets and communities it serves. As of December 31, 2011, the company had 34 offices in 10 states and $12.4 billion in assets. The company's website is http://www.theprivatebank.com.
# # #