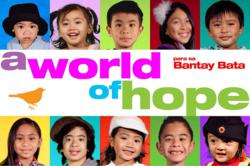 "As the needs of disadvantaged Filipino children continue to grow, our partnership with Seafood City Supermarkets reminds us that the global Filipino is ready to help."
Redwood City, Calif. (PRWEB) February 08, 2012
ABS CBN Foundation International, now on its 10th year, announced their official partnership with Seafood City Supermarkets in their campaign, "A World of Hope para sa Bantay Bata" that will benefit the nonprofit's flagship program. All Seafood City Supermarket locations are participating through collecting donations at the check-out counter and by donating proceeds from customers' purchase of select Pamana products.
"This partnership with ABS CBN Foundation, specifically with Bantay Bata (Child Watch), is a testament of Seafood City's unwavering support and commitment to uplift the quality of life of the less privileged Filipino children who are the hope and future of our homeland," said Amy Simonet, Marketing Manager for Seafood City Supermarkets.
Grocery stores in California located in Chula Vista, National City, Mira Mesa, Cerritos, West Covina, Carson, Eagle Rock, Vermont, North Hills, Panorama City, Union City, San Jose, Milpitas, Concord, Vallejo, Sacramento, in Las Vegas, Nevada, and in Seattle, Washington are now participating in the fund raising effort. Customers can donate their contributions at drop boxes with the cashiers, add their gift to their receipts or buy select Pamana products such as fish sauce, palm vinegar, soy sauce, bihon, and canton noodles. A portion of these sales will go towards the program.
Bantay Bata's mission is to create and provide a safe, nurturing and loving environment where Filipino children can develop and realize their full potential through the rescue and care of abused, abandoned and sick children. It also provides food and nutrition, medical assistance, counseling support, legal help, scholarships and temporary housing for the children of the worst abuse. Through seven regional centers across the Philippines, the 24-hour Bantay Bata 163 hotline receives at least 15,260 calls for help every year – or 42 rescue calls a day.
"As the needs of disadvantaged Filipino children continue to grow, our partnership with Seafood City Supermarkets reminds us that the global Filipino is ready to help," said J. Robbie Fabian, President of the ABS CBN Foundation International. "We encourage everyone to support businesses that promote a community and network of philanthropy for less fortunate Filipinos."
ABOUT ABS CBN FOUNDATION INTERNATIONAL:
ABS CBN Foundation International is a 501(c)3 non-profit organization dedicated to improving the lives of disadvantaged Filipino children and their families in the Philippines and around the world. Its flagship program, Bantay Bata (Child Watch), is a child abuse rescue operation that responds to an average of 15,300 calls for assistance a year. The program assists more than 21,000 children and families in relocation communities and feeds at least 4,400 severely malnourished children a year. Its education program serves 4.2 million elementary school children and their teachers.
In the United States, the organization partners with Filipino-American organizations and associations in addressing community issues--youth truancy, housing, issues affecting the elderly, health, and emergency needs. For more programs and information, visit http://www.abscbnfoundation.org.
###