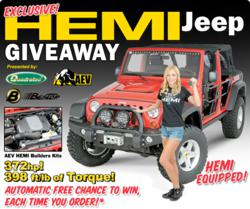 (PRWEB) February 09, 2012
Quadratec, the worlds largest distributor of Jeep parts and accessories is giving away a 2012 Jeep Wrangler. This customized 4 Door Wrangler has a professionally installed AEV 5.7 Liter Hemi Engine and driveline conversion. It also comes equipped with AEV bumpers, wheels and suspension. Bestop soft goods complete this package with an estimated retail value of $50,000. For the Jeep enthusiast this is a dream come true.
This giveaway starts on February 1st, 2012 and entering for a chance to win is easy. Each time you order from Quadratec (up to once per week) you will get an automatic entry to win. However, no purchase is necessary to enter, simply visit http://www.quadratec.com/JKgiveaway. Throughout 2012, this vehicle is scheduled to appear at select Quadratec promotional events which will be listed on their site. 
This is the fourth Jeep that Quadratec has given away in six years. Last year they held a contest where they gave away a brand new 2 door and 4 door Wrangler. Quadratec has been in business for over twenty years, catering to the ever changing needs of the Jeep enthusiast. Quadratec started out specializing in Jeep Soft Tops as a mail order company. Request their free 352 page catalog at http://www.quadratec.com.
###