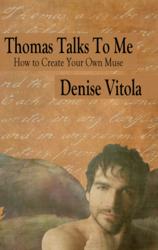 Believing in a mystical being whom you can call upon to assist you in creative activities may seem insane or even a bit heretical, but muses are creatures of your imagination.
Newport, RI (PRWEB) February 09, 2012
The book has been released simultaneously in traditional paperback and e-book formats and is available at Amazon).
Denise Vitola met the angel Thomas one lonely, desperate night in 1991 when she was about to abandon her dream of finishing her first book. Thomas took her under his impressive wing and guided Denise through the writing of several novels and short stories that sold to major publishing houses and magazines.
Told through Thomas's irreverent voice, and spiced with stories of his Angelic life, Thomas Talks to Me shows the writer how to become a successful author by creating a muse who will inspire the artist within. Thomas gives the reader tips and tricks that he won't find in any run of the mill writer's how-to-book.
Thomas says, "As a writer, visualization should be one of your talents. If you can visualize settings and characters, you can discover the different aspects of your muse."
Thomas Talks to Me – How to Create Your Own Muse is for any writer who has ever tried to write a story and needed a sympathetic ear or a kick in the pants.
About Cool Well Press
Cool Well Press offers its readers a variety of genres including fantasy, mystery, science fiction, suspense, historicals, Young Adult, and non-fiction. Cool Well Press strives to bring you the best and brightest authors and stories that will touch your heart, open your mind, and keep you thinking long past The End. For more information, please visit Cool Well Press at http://www.coolwellpress.com. For the latest, follow @coolwellpress on Twitter.
###