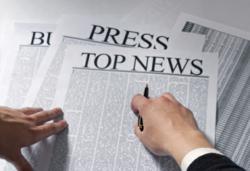 If I was down to my last dollar, I'd spend it on public relations.
Basingstoke UK (PRWEB UK) 22 February 2012
PR agencies in the UK have the power to take small companies and to transform them into big successful businesses. Marketing Quotes considers the feedback from a kitchen design business that found that PR was very effective for them and advises small businesses to consider using PR for media exposure.
As stated on PR Week recently 'PR is one of the most powerful forms of marketing' there are many well known businesses that have found PR to be an effective and powerful marketing tool.
Considering the example of 'Innocent' (the smoothie producer) that started up in 1998, they have used PR very effectively to create a really strong brand. PR was also used to ensure that the right message was communicated about the merger of Innocent Smoothies into Coca Cola Enterprises in April 2010.
Bill Gates is known for commenting, 'If I was down to my last dollar, I'd spend it on public relations'
Marketing Quotes has noticed that over the last few years, more businesses were looking for assurances with their marketing (whether this was a telemarketing campaign, a TV advertising campaign or via traditional media) a way of measuring the results to ensure that return on investment it achieved from the campaign.
Considering the feedback from thousands of businesses that have used Marketing Quotes; the marketing service that seems to deliver the best results is public relations. Many clients have fed back to Marketing Quotes that since using a PR agency to handle their media coverage, they have noticed an upturn in their business and workload is increasing. The main feedback about the success of PR was from smaller companies, that can measure the changes easier than larger businesses.
One client in particular is involved in the kitchen designing industry (a very competitive sector) and asked for help in finding a PR agency. After reviewing a few agencies, they appointed a PR company, and soon after achieved excellent press coverage in relevant media publications. This resulted in an increase in their enquiry levels.
David Blackburn (a director at Marketing Quotes) commented 'the kitchen design client is just one of many businesses that have reported success from appointing a PR agency. We do strongly advised small businesses to look into PR, it does not need to be expensive, but a little coverage can go a long way.'
About Marketing Quotes - Marketing Quotes is a free service to UK businesses to help get free advice and quotes for marketing and public relations. Helping companies around the UK to find a local marketing agency that can help promote their businesses or to find cost savings through comparing marketing agencies.
###