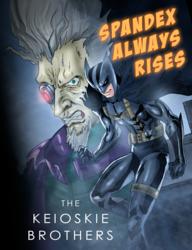 The night is dark. Well—the night is always dark. It's just that tonight it's darker. Blacker. As if the world itself were preparing for the coming of—the Crowman.
(PRWEB) February 13, 2012
Cool Well Press, Inc., a publisher of Fiction and Young Adult books in a variety of genres, has released Spandex Always Rises, by the up and coming Australian writing team of Daniel and Luke Keioskie, writing under the name of The Keioskie Brothers.
The book has been released simultaneously in traditional paperback and e-book formats and is available at the publisher's website at http://www.coolwellpress.com as well as Amazon and Barnes and Noble.
Spandex Always Rises is a super-powered adventure, a good old-fashioned comic book story of good versus evil – but in novel form. It's the tale of Crowman, who wants to be a superhero –– one of those guys who flies up, up and away and fights for truth and justice, but to do that, he must kill Millennium City's greatest superhero, Bright Star. Unfortunately, Dr. Tempest, a super villain with a death ray for every occasion wants to take down Bright Star, too, and Crowman finds himself in the middle of the ultimate showdown.
"Spandex Always Rises is a comedic homage to comic book superheroes," Luke Keioskie said. "Daniel and I wrote a novel that not only paid tribute to the genre, but also poked fun at it."
Spandex Always Rises is a story that will appeal everyone who has ever wanted to do something special with his or her life.
About Cool Well Press
Cool Well Press offers its readers a variety of genres including fantasy, mystery, science fiction, suspense, historicals, Young Adult, and non-fiction. Cool Well Press strives to bring you the best and brightest authors and stories that will touch your heart, open your mind, and keep you thinking long past The End. For more information, please visit Cool Well Press at http://www.coolwellpress.com. For the latest, follow @coolwellpress on Twitter.
###