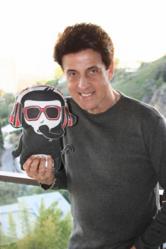 Hollywood, CA (PRWEB) February 08, 2012
Peter Lamas, President of Peter Lamas Products, Inc. and innovator in certified organic hair and skin care products releases the following statement via Raffles Entertainment regarding the anti-bullying campaign "Hear No Evil, See No Evil, Speak No Evil" and the anti-bullying mascot Miles the Monkey:
"I am very passionate about this cause. My son was bullied terribly in elementary school, to the point that we had to change schools. He eventually learned how to defend himself and it was no longer a problem. I understand the pain he went through. I know that what Miles the Monkey stands for is very important and will help many children if we all help give our support and raise awareness to this tragic problem."
About Peter Lamas and Peter Lamas Products
Peter Lamas founded Peter Lamas Products with the overriding mission to offer premium hair-care, skin-care, body-care and anti-aging products that are free of harmful chemicals. From his humble beginnings in New York 30 years ago, Lamas began his career at Vidal Sassoon, training directly under the legendary Sassoon himself. Peter Lamas quickly became a go-to for classic beauties such as former First Lady and fashion icon Jacqueline Kennedy Onassis, Grace Kelly and Audrey Hepburn. Peter Lamas has worked with Hollywood's most elite, including Grammy Award winning entertainment legend Diana Ross, supermodel Cindy Crawford and Oscar award winning actress Kate Winslet. Today, Peter Lamas is one of the leading international beauty experts in the world.
Since the inception of Peter Lamas Products, they have been vegan -- have never used animal bi-products or tested on animals. Their hair care line was one of the first ever to be paraben-free, petrochemical-free and sodium lauryl sulphate-free. Lamas places the highest priority on using nature as the foundation of each product - utilizing a combination of exotic extracts, powerful botanicals and potent herbs to enhance all skin and hair types. Each product combines cutting edge anti-aging and beauty technology with Certified Organic Ingredients to offer high-performance, healthy beauty products -- for a unique blend of nature and science, free of harmful chemicals that deliver results.
About The Stop Bullying Now Campaign:
The STOP BULLYING NOW Campaign entitled "Hear No Evil, See No Evil, Speak No Evil" by Artist for Global Unity is an initiative that will reach parents and children, while providing tools needed to successfully cope with bullying.
Miles the Monkey, the official mascot of the campaign, will be traveling across the globe with a message of acceptance, tolerance and will encourage those to take a stand against bullying.
Artist for Global Unity is an organization that supports various causes around the globe. Spear-headed by celebrity consultant to the stars Raffles van Exel, this effort is in coordination with celebrities, corporations, and skin care/beauty colleagues from across the world. Participants include Christine Heathman, CEO/Founder of GlyMed Plus, Soul/Funk music icon Chaka Khan, movie and television star Quinton Aaron, CEO/Founder of GBK Productions Gavin Keilly, CEO/Founder of Lamas Beauty Peter Lamas, pop singer/songwriter Tyler Wade, CEO/Founder of Raffles Entertainment Raffles van Exel, Marion P Candles, Denali Ink, I AM RUTH! Foundation, AmVic Entertainment and Baby Girl Entertainment, Paradox Entertainment, IDP Entertainment Group, and Photographer Christian Rios.
Source: Raffles Entertainment
###